Norm of the North
(2016)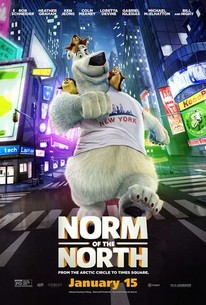 TOMATOMETER
AUDIENCE SCORE
Critic Consensus: A pioneering feat in the field of twerking polar bear animation but blearily retrograde in every other respect, Norm of the North should only be screened in case of parental emergency.
Movie Info
A polar bear of many words, Norm's greatest gripe is simple: there is no room for tourists in the Arctic. But when a maniacal developer threatens to build luxury condos in his own backyard, Norm does what all normal polar bears would do...he heads to New York City to stop it. With a cast of ragtag lemmings at his side, Norm takes on the big apple, big business and a big identity crisis to save the day. -- (C) Lionsgate
News & Interviews for Norm of the North
Critic Reviews for Norm of the North
Audience Reviews for Norm of the North
I have to start off with three things. Number one: don't ask. Number two: Bill Nighy deserves so much fucking better than this. So much more, I'm not even kidding. And, lastly, number three: do you really expect this movie to be any good when ROB SCHNEIDER, of all people, voices the main character. I don't think I'm exaggerating that Rob is, probably, one of the worst comedic actors of the last 20 years. It's not like Chris Rock, where you know that the guy is actually a good stand-up comic, it's just that his track record for picking films haven't been the best. Schneider is just all-around awful and the fact that he's managed to be a success, if it can be called that, just because his friendship with Adam Sandler is one of the great Hollywood tragedies. I'm obviously exaggerating, but if it really wasn't for Adam Sandler throwing this guy bones by giving him roles that are racially insensitive then Rob would have been, rightfully so, forgotten ages ago. With that said, while I thought the voice acting in this film was really substandard, I don't think the film's poor quality can be blamed entirely on the cast. I will admit that they share some of the blame, I'm not gonna deny that, but the story is awfully misguided and genuinely uninteresting and it seems more like an excuse to have sequences where Norm dances for, literally, no reason whatsoever. Or the reason could be that it's a kids' movie and that's what's expected. Not that the film really had much potential to begin with, but it's like they're really not even trying to make a good movie. They're just trying to make something that kids might look at and be amused. Though, with the quality of the animation, which is nonexistent, I can't imagine too many kids really looking at this and thinking that they want to see it because it's colorful and vibrant. Honestly speaking, the animation is terrible. I believe, and I'm confident about this, that the animation in the first Toy Story that came out in 1995, TWENTY-ONE years ago, looks better than this turd. I swear to you that I'm not joking about this. And I realize that that's not a fair comparison. This movie was never gonna have the budget that, even, the original Toy Story did (this movie had an $18 million budget and TS had a $30 million one), much less were they gonna have the budget that Pixar has now. But, and I do think that gives them a slight pass, but not completely. There's just nothing impressive about the animation. It looks generic and uninspired. I'm honestly quite surprised that this movie got, however limited it was, a theatrical release. I can't imagine that Lionsgate believed that they could make a ton of money on this, so why bother putting it out there and spending money on marketing and trailers for a movie that had limited potential for major success. The film does have some moments where it made me chuckle. Like the lemmings playing the violins as the boat they were on was going down. I think it was mostly how unexpected it was as opposed to it being legitimately funny, but it, at least, got a laugh out of me and that's really the only one I can remember. Is this movie worse than Cars 2, Shrek 3, Shark Tale? I guess if you look at the ratings for those respective films when compared to this one, then yes, this would, technically speaking, be a worse movie. Did it have me as fuming as Cars 2 did? No. I know for a fact that I hated Cars 2 more than I hated this film, that much is obvious. Deep down, this is the worst movie, but I didn't come to hate it as much. I mean, don't get me wrong, I thought this movie was legit awful, but it wasn't the type of awful that made me want to pull my hair out. It's just an awful kids' movie. We get man of those a year and this is just one of them. But, yes, with that said, this is still an awful movie that, hopefully, people stay away from. It's just bad, bad, bad.
Jesse Ortega
Super Reviewer
Not half as bad as most people made out, The story will be a little hard to understand for young children, But beneath the plot is a innocent story that my 4 year old enjoyed even though most of the jokes are twerking polar bears, I can't comment on the 3D as I watched the 2D version, It's nothing memorable or great plus there's much better animations about but you can't knock it for trying something different even if the end result is very under par.
Jamie Clarke
Super Reviewer
½
Norm of the North consistently underestimates how smart children can be and settles for a lazy, and rather sexist environmental tale that suffers from dull animation and a slapped together plot. Characters rely on pee jokes, that sort of thing. The message isn't a bad one, but the film delivers it in a loud and unsubtle way. January is characterized by crappy animations and luckily Kung Fu Panda 3 and Zootopia weren't too far behind. A poor way to start 2016 in animation. Rating: 27
Norm of the North Quotes
| | |
| --- | --- |
| Mr. Greene: | Vera, get my lawyer. We're going to copyright that roar and make it a ring tone. |
| | |
| --- | --- |
| Norm: | I put the soul in the winter solstice. |
| | |
| --- | --- |
| Mr. Greene: | I'm gonna be so rich when I sell of the Arctic, there's gonna be condos and shopping malls" |
| Mr. Greene: | I'm gonna be so rich when I sell off The Arctic, there's gonna be condos and shopping malls. |
| | |
| --- | --- |
| Norm: | Someones coming act natural! Not that natural. |
| Norm: | Someone's coming, act natural! |
| Norm: | Not that natural. |