North
(1994)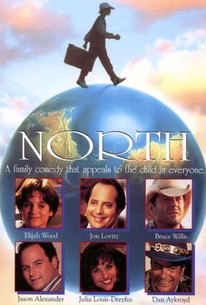 TOMATOMETER
AUDIENCE SCORE
Critic Consensus: Laden with schmaltz and largely bereft of evident narrative purpose, North represents an early major disappointment from previously sure-handed director Rob Reiner.
Movie Info
A young boy demands a divorce from his neglectful parents and is granted approval -- but only if he can find suitable replacements within two months. He then sets off on a quest around the world in search of the perfect family in this parable-like comedy.
Audience Reviews for North
I love Elijah Wood. In fact, he is one of my favorite actors. His performances in "The Good Son", "Happy Feet" and "The Lord of the Rings Trilogy" were all spectacular. I also like Alan Arkin. He's not one of my favorites, but I like him. He did a pretty good job in every movie I've seen him in apart from "The Santa Clause 3: The Escape Clause". So when I heard of this movie, I thought it might actually be pretty good. Until I read Chicago Sun-Times critic Roger Ebert's review. Quote: "I hated this movie. Hated hated hated hated hated this movie. Hated it. Hated every simpering stupid vacant audience-insulting moment of it. Hated the sensibility that thought anyone would like it. Hated the implied insult to the audience by its belief that anyone would be entertained by it."-Roger Ebert. He. Was too. Nice. First of all, this movies acting is down right awful. Elijah Wood, who plays North, does a downright awful job. It's probably one of the hardest thing's I've ever had to say in a review, but it is truly awful. Wood overacts and underacts, playing one of the most uninteresting and annoying characters I've ever seen. However, he was hardly the worst thing about the movie. That would be Matthew McCurley as Winchell, an evil 10 year old CEO with a diabolical plan to kill North. He shows about as much emotion as Matthew Broderick in Inspector Gadget and is about as menacing as "Turl" from "Battlefield Earth". I've seen more energetic acting from the Olsen Twins on "Full House". This movie can also be extremely racist and stereotypical at times. For example, there is one VERY controversial scene in which North is visiting an Eskimo family, who banishes their grandfather to death because he can no longer help the tribe. It sounds like a really emotional scene, but if you see the movie, it was definitely intended to be a joke. #1: Eskimos only did that in times of FAMINE and when they did, it was a very heartbreaking and emotional scene. #2: To joke about something like that is incredibly insensitive, especially considering this is a kids film. Speaking of jokes, this film is the farthest thing from funny there is. There is not ONE funny joke in this movie. Most of the time, they;re not even trying. It's like they read the script without any jokes, and then thought of a joke in like 2 seconds without looking it over. When they ARE trying, they try to hard, and the audience is confused over how it's supposed to be funny. This movie also has absolutely no logic. Kids can;t just divorce their parents. Divorce is a very long and complicated process. It takes months, and North probably would have been caught by then. Also, this movie makes parents look really bad. Parent's are the authority figures, they're out to protect you, they;re not just uncool and mean jerks. Basically, the lesson of this movie is "Parents suck, and treat them with as little respect as possible" This movie may be one of the absolute worst of the 90's. It's definitely in the top 10. No child should have to go through this kind of punishment. I'd rather watch "The Gameplan" and I absolutely HATED "The Gameplan".
Marc Lewis
Super Reviewer
Every director suffers from one very bad film throughout his career in the case of Rob Reiner, that film is North. I remember watching this film when I was younger, and not liking it at all. I got the idea of the film back then, but now over fifteen years after this film was released, this film has absolutely no merit in entertainment. One thing that's shocking is that the film has a very good cast, but not even that can save this shameful film from disaster. The reason the film is bad, is the films premise. A boy divorces himself from his parents to find better parents. Hell, parents aren't supposed to be cool, they're the authority figure, and though most are very strict in many respects, a lot of them compensate by being fair. Hell I was brought up with that. I think that this film spits in the face of parents, and not only that, it insults the viewers intellect, and tries to say that their parents aren't worth a damn. This film isn't Rob Reiner's brightest career move, and that's a great shame because he's made some classics over the course of his career. This is the worst possible family film that you can possibly watch. I was a kid when this film came out, and I remember how bad this was. A good cast is wasted on such a terrible film, it's a great shame, because there's some impressive names attached to this piece of trash.
½
Criative story, bad film. It's not so terrible like say, but still a crap. Rob Reiner's Unmasterpiece.
Lucas Martins
Super Reviewer
North Quotes
| | |
| --- | --- |
| North: | Hang on guys, I think I left my butter churner in the overhead locker, hah. [to pilots] Floor it! |
| North: | Hang on guys, I think I left my butter churner in the overhead locker. Floor it! |
| | |
| --- | --- |
| North: | Hang on guys, I think I left my butter churner in the overhead locker, ha ha, (to pilots) Floor it! |
| North: | Hang on guys, I think I left my butter churner in the overhead locker, hah. [to pilots] Floor it! |