North Country
(2005)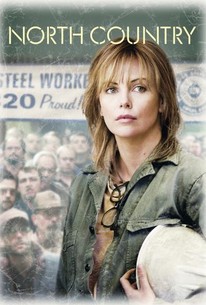 TOMATOMETER
AUDIENCE SCORE
Critic Consensus: Though sometimes melodramatic and formulaic, North Country is nonetheless a rousing, powerful story of courage and humanity.
Movie Info
This true story centers on Lori Jenson, who took a job at a Minnesota iron mine in 1975. She and other female miners endured harassment from male co-workers, ranging from verbal taunts to pornographic graffiti and worse. Jenson eventually filed suit in 1984 and won a landmark legal decision.
Critic Reviews for North Country
Audience Reviews for North Country
A female mine worker faces brutal sexual harassment and leads the way for the first U.S. class action lawsuit in such a case. Bill Maher issued a "New Rule" when this film first came out: "New rule: Charlize Theron must be hot again." This was as he showed a picture of Theron covered in grime, a still from North Country. Isn't it ironic that she would still be seen as a sex symbol in a film that discourages seeing women as sex symbols? Such jokes - and they are not just jokes - constitute the cultural problem at the center of this slow-paced but compelling drama. The performances by Theron and Frances McDormand are fantastic, each actress able to embody both natural femininity and the masculine mask they must put on in order to function in the mine. The most compelling scene in the film is provided by Richard Jenkins, who must defend his daughter against the screaming taunts of his co-workers. But there are issues with the film. First, it delves into a few cliches along the way, including the climactic courtroom revelation, which I won't give away; suffice it to say that you won't be surprised. Second, on two occasions, the first being the Richard Jenkins scene and the second the very existence of the Woody Harrelson character, men are required to give women a voice. It seems as though the film is so self-conscious about not demonizing men that it contradicted its point by portraying men as necessary for female political and social action. Overall, North Country starkly presents a serious cultural problem that, though set in 1989, certainly resonates today.
Jim Hunter
Super Reviewer
½
North Country is a terrific drama film about the first sexual harassment law suit. A harsh story the treatment of women in the Minnesota Mines. Charlize Theron gives one of the best performances of career in North Country as Josey Aimes who takes a job at a local mine and witnesses first hand the harrasment by male workers. She goes on to sue the Company and therefore make history by filling the first sexual harrasment lawsuit. Every actor gives his all in this film, and everyone gives terrific performances. North Country is a solid Drama film that shouldn't be missed.
½
The true story of a female mine worker of the 70s who fought for sexual harassment laws and equality at her working place. The cast is excellent down to the smallest roles and the film's biggest asset. The direction and pace are a bit slow at times but the movie manages to keep you interested throughout anyway. There are a few scenes of brilliance, especially the ending in court is good or when Lori's father finally decides to take his daughter's side. The emphasis of the court scenes is a bit too much centered on proving that Lori was no promiscuous woman, though. It's sad enough that a question like that would matter in a case about sexual harassment, but why make it one of the main points of the film? Thankfully, this often very bleak movie gives a ray of hope in the end. Worth seeing.
North Country Quotes
| | |
| --- | --- |
| Bill White: | What's it going to be this time yellow or red? Yellow or red? YELLOW OR RED? |
| Bobby Sharp: | What was I supposed to do? |
| | |
| --- | --- |
| Bill White: | Rangers are hard as steel,huh? Not this one. This one is made of butter. |
| Bill White: | Rangers are hard as steel, huh? Not this one. This one is made of butter. |
| | |
| --- | --- |
| Glory Dodge: | Before your law firm hired you did they put your feet up in the air and look in your insides? |
| | |
| --- | --- |
| Kyle Dodge: | This is Glory. She worked at Pearsons. She wants to say "My name is Glory Dodge, and I'm not f**king dead yet. I stand with Josey." |
| Kyle Dodge: | This is Glory. She worked at Pearsons. She wants to say 'My name is Glory Dodge, and I'm not f**king dead yet. I stand with Josey.' |