North to Alaska
(1960)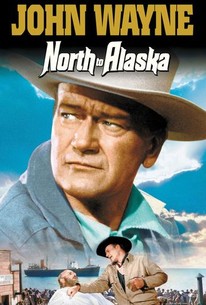 Movie Info
An Alaskan prospector (John Wayne) escorts a girl from Seattle to a northern boom town. Comedy ensues when the girl falls for her escort and not the lovestruck partner for who she was intended. Simpering crooner Fabian delivers "If You Knew." The popularity of the title song sung by Johnny Horton helped provide an excellent box office return on the film.
Critic Reviews for North to Alaska
Audience Reviews for North to Alaska
This movie is the original "Pretty Woman" only a lot more light hearted and one of the more humorous John Wayne flicks. John Wayne plays his typical rough and tumble type character, this time as a just-struck-it-rich miner with a love 'em and leave 'em attitude but also with a heart of gold. Three or four bar-room brawls and the entrance of Ernie Kovacs as the Snidley Whiplash-pencil-thin-mustache scheming type character keep the movie lighthearted and funny. Frenchie beauty Capucine plays the hooker with the heart of gold that trys to claim Sam McCords heart. Ha - new quote to the list (now to have to do it in the John Wayne typical drawl): There's one thing you gotta learn about women. They're all liars. And if they ain't liars, they're worse, laying for you with wedding music. Take that little dame from Oregon. All I was doing was tying her shoe laces and she starts beating me over the head with a preacher. Or that little thing from Minnesota, who tried to marry me while I was so drunk I didn't know what I was doing, if it hadn't been for the parson's mercy, I'd have been hooked good, for good! You just can't trust women. No matter how honest they act, they all want to be wives!
Chad Roesti
Super Reviewer
½
This is a action filled comedy western, funny and heartwarming and John plays his usual macho self. My favorite scene would be the one where George and Capucine succeeds in making the Duke jealous. Hilarious!
This is incredible comedy-adventure as well as John Wayne hangs up his stirrups, puts away his scowl, and reveals himself as an unexpectedly brilliant slapstick comic. This is rather than a typical John Wayne Western, this is a John Wayne Northern. And Capucine is wonderfully in her performance as "Angel" who's in love with Big Sam (Wayne), not Sam's partner. She looked so beautiful as a French actress.
Dean McKenna
Super Reviewer
North to Alaska Quotes
There are no approved quotes yet for this movie.