Northfork
(2003)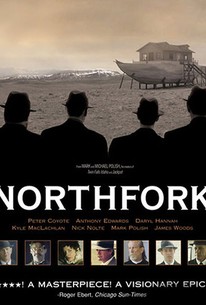 Movie Info
What was once a brave frontier town has become a haven for enlightened oddballs in this unusual drama from director Michael Polish, written in collaboration with his twin brother, Mark Polish. Northfork is a small town in Montana which, in 1955, is soon to disappear in the name of progress; a massive hydroelectric dam is to be put in nearby, which will flood the entire village. A group of six men sent by the power company -- led by Walter O'Brien (James Woods) and his son Willis (Mark Polish) -- arrive in Northfork to evacuate the few remaining residents. If the men are successful, they'll each be given parcels of land on the banks of the new lake which will be where Northfork once stood. Most of the townspeople have already left, but a few remain, among them Father Harlan (Nick Nolte), a man of the cloth who is caring for Irwin (Duel Farnes), a strange, scarred boy apparently on his deathbed, and a handful of enchanted eccentrics who have taken over a local bar, including Flower Hercules (Daryl Hannah), Cup of Tea (Robin Sachs), Happy (Anthony Edwards), and Cod (Ben Foster). As Walter and Willis try to persuade the stubborn stragglers to move on, Walter must search for a new final resting place for his late wife, whose coffin is the last to be relocated after Northfork's cemetery is dug up. Northfork received its world premier at the 2003 Sundance Film Festival.
News & Interviews for Northfork
Critic Reviews for Northfork
Audience Reviews for Northfork
½
In 1955, officials try to convince reluctant residents of Northfork, Montana (one of who has built an ark) to leave before the town is flooded by new dam construction; meanwhile, a dying orphan meets a ghostly family and tries to convince them to take him with them. The mildly surreal Big Sky spirituality here may be too dry to inspire as intended, but it does set a unique and thoughtful mood.
What the Hell was I watching. Two Stars
Bruce Bruce
Super Reviewer
"There's nothing fowl about these wings"