Norwegian Wood
(2012)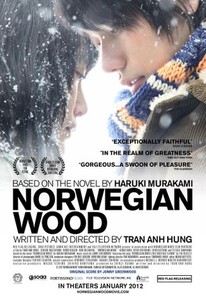 TOMATOMETER
AUDIENCE SCORE
Critic Consensus: Norwegian Wood is a poetic adaptation of the Haruki Murakami novel that uses rapturous visuals to draw viewers in its exploration of young love and lasting death.
Movie Info
Tokyo, the late 1960s...Students around the world are uniting to overthrow the establishment and Toru Watanabe's personal life is similarly in tumult. At heart, he is deeply devoted to his first love, Naoko, a beautiful and introspective young woman. But their complex bond has been forged by the tragic death of their best friend years before. Watanabe lives with the influence of death everywhere. That is, until Midori, a girl who is everything that Naoko is not - outgoing, vivacious, supremely self-confident - marches into his life and Watanabe must choose between his past and his future. -- (C) Official Site
Critic Reviews for Norwegian Wood
Audience Reviews for Norwegian Wood
A lovely adaptation of Murakami's astonishing novel. Norwegian Wood is the Murakami book that I think shouldn't be used as an introduction to his worlk. So seeing it as a film I can perfectly understand the film's mixed reviews. This isn't the most approachable film in the world. At times it has a strong story going on, but then becomes more of a visual feast, before jumping long distances of time while trying to maintain the chemistry between characters. It is a story of change, loss, and moving on, with a sense of emptiness that is very haunting in the most meditative kind of way. Matsuyama and Kikuchi are a gorgeous couple both in terms of their looks, and the passion they clearly hold for each other. The film's biggest drawback is the sporadic use of voiceover, which can only hint at the involving narrative it is taken from. With its absence throughout the majority of the film, the fairly blunt dialogue and explorations of sexuality can seem in your face. More of a visual companion to the novel than a stand alone film, it's still a very interesting piece which will hopefully inspire more adaptations of Murakami's works.
Luke Baldock
Super Reviewer
½
I can't believe the ratings for this movie are so low! I found it quite lovely and very sad. I was in tears by the end of it. Filmed beautifully with effective soundtrack. I really liked both of the damaged females here, particularly Midori. Hard to explain the story, it's not hard to follow, but sometimes hard to understand the characters motivations. I haven't read the book, so I don't know if that's why the negative reviews, but on its own, this is an excellent movie.
Nicki Marie
Super Reviewer
½
"The grief over a death of someone you loved can never be healed. We can only live with the sorrow and learn something out of it." Upon hearing the song "Norwegian Wood," Toru (Matsuyama) remembers back to his life in the 1960s, when his friend Kizuki killed himself and he grew close to Naoko, Kizuki's girlfriend. As the two try, in very different ways, to contend with their grief, Toru forms a bond with another woman, Midori.
REVIEW
Its hard to review a film like this when you've been looking forward to it so much. While its not my favorite of his books, I'm a big Haruki Murakami fan, and I love Anh Hung Tran's earlier films - I thought this was potentially a match made in heaven. The film is good - very good. Just not the great film I'd hoped it would be. There are wonderful scenes and great acting, and the cinematography is beautiful. But I think there are some major flaws. The flow of the film is oddly disjointed at times - while the book is very much written from the perspective of an older, wiser man looking back at his immature youth, the film seems unsure of its own perspective. The voice-over is poorly structured, seemingly aimed at filling in narrative gaps rather than giving us the older narrators overview. Oddly for Tran, a director who has been extremely minimalist in the past, some scenes are far too overwrought, not helped by the intrusive and anachronistic score. The casting is also uneven - Rinko Kikuchi is a marvelous actress, but is simply too old to play a convincing 20 year old. The character of Reiko is also played by an actress much younger than the character in the book, but the part hasn't been changed accordingly. That said, Kenichi Matsuyama as Toru and in particular Kiko Mizuhara as Midori are terrific. I really don't know how someone who doesn't know the book will react to this. I suspect that if you are a romantic at heart, you will like it, even if you find it a bit overlong and some of the characters too thinly drawn. Fans of the book will mostly love it as it is quite faithful (maybe too faithful) to the story.
Lorenzo von Matterhorn
Super Reviewer
Norwegian Wood Quotes
There are no approved quotes yet for this movie.