Nostradamus
(1993)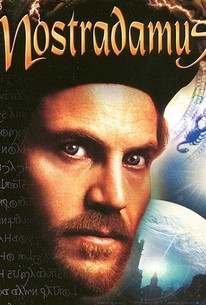 Movie Info
This period drama explores the life and times of the 16th century doctor and scientist who some believed could see into the future. Michel de Nostradamus (Tcheky Karyo) was the son in a Jewish family who posed as Catholics to be spared the wrath of the Inquisition. As a student of the renowned physician Dr. Scalinger (F. Murray Abraham), Nostradamus created herbal cures and did pioneering research in the importance of proper nutrition and hygiene. However, he was unable to protect his wife Marie (Julia Ormand) from the Black Plague sweeping the country, and he lost both her and their two children. Nostradamus remarried, to widow Anne (Assumpta Sterna), but at the urging of Scalinger, he began to more carefully explore the strange trances that befell him, and Nostradamus began writing prophetic essays predicting any number of future catastrophes. Nostradamus also features Amanda Plummer as Queen Catherine de Medici and Anthony Higgins as the King.
Critic Reviews for Nostradamus
Audience Reviews for Nostradamus
Nostradamus Quotes
There are no approved quotes yet for this movie.