Not Another Teen Movie
(2001)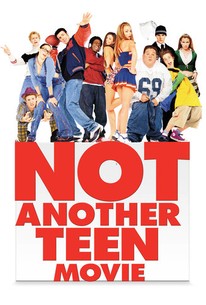 TOMATOMETER
AUDIENCE SCORE
Critic Consensus: NATM has some funny moments, but the movie requires the audience to have familiarity with the movies being spoofed and a tolerance for toilet and sexual humor to be truly effective.
Not Another Teen Movie Videos
Not Another Teen Movie Photos
Movie Info
Former MTV executive Joel Gallen makes his feature directorial debut with this broad spoof of the popular teen comedy genre, lampooning dozens of movies including American Pie (1999), American Beauty (1999), Bring It On (2000), Clueless (1995), She's All That (1999), Road Trip (2000), Can't Hardly Wait (1998), 10 Things I Hate About You (1999), Never Been Kissed (1999), and even the teen films of an earlier era such as The Breakfast Club (1985). At the aptly titled "John Hughes High School," aspiring artist Janey Briggs (Chyler Leigh) is an outcast because of her plain, bespectacled looks and paint-splattered overalls. Football hero Jake Wyler (Chris Evans) makes a bet that he can transform Janey into a gorgeous prom queen, a wager he may come to regret as he discovers Janey's true inner beauty. As their relationship blossoms, several other characters are limned, including a Nasty Cheerleader (Jaime Pressly), a Token Black Guy (Deon Richmond), a Stupid Fat Guy (Ron Lester), an Obsessed Best Friend (Eric Jungmann), an Undercover Reporter (Beverly Polcyn), the Cruelest Girl in School (Mia Kirshner), a Cocky Blonde Guy (Eric Christian Olsen), and several others. A nod to the multiple films that inspired it, Not Another Teen Movie (2001) was originally to have been entitled "Ten Things I Hate About Clueless Road Trips When I Can't Hardly Wait to Be Kissed."
Critic Reviews for Not Another Teen Movie
Audience Reviews for Not Another Teen Movie
½
Fantastic lampoon with all teen tropes represented. Profane and obvious, but oh-so-delicious. I think I've finally seen most of the movies this movie parodies, so the jokes are even better, especially for those 80s movies that I didn't love like "Pretty In Pink" and "The Breakfast Club." I watched this most recently with the trivia track, and I'd like to point out an error. Joanna Garcia's Tourettes-afflicted cheerleader, Sandy Sue, is not merely a send-up of "Grease"'s virginal Sandy Olsen, but more likely a combo of her and "Pleasantville"'s All-American Slut, Jennifer-cum-Mary Sue Parker - whose sweater set, poodle skirt, and 50s curls are a spitting image of Garcia's. Heh heh, cum.
Alice Shen
Super Reviewer
Priscilla: You put the "suck" in "liposuction" You put the "ooo" in "jiu-jitsu" You put the "ism" in "This is all just a defense mechanism". "They served you Breakfast. They gave you Pie. Now we're gonna stuff your face." Not Another Teen Movie is a painfully unfunny recreation of a variety of high school based films like Varsity Blues, American Pie, and The Breakfast Club. Every joke is so obvious that it takes away any possibility of laughter. You obviously know what you're getting into with this kind of comedy. We've seen countless spoofs for decades now. There's the good classics like Blazing Saddles and Airplane. Then there's the terrible trash we've been plagued with for the last decade like The Comebacks and Vampire's Suck. Occasionally a decent one will come along like Scary Movie, but for the most part, this genre is garbage. Not Another Teen Movie is exactly that, garbage. So the "plot" for Not Another Teen Movie is this, a popular boy takes a bet to turn a plain Jane into a prom queen. In between there's a party, a football game, and a lot of references to films everyone and their grandmother has seen. Just making dumb references to films and playing out episodic skits to recreate scenes doesn't make a spoof funny. Just because you can recreate every cliche in the book and throw it into an hour and twenty minute movie doesn't mean anything. I can't believe there are actually people out there that think anything in this movie is "clever" or in any way funny. So bad that I am going to have trouble giving any spoofs in the future a chance. It's sad to see that a genre that Mel Brooks perfected has dove down into the depths of movies like Not Another Teen Movie. 
Melvin White
Super Reviewer
This is a pretty good parody of many teen comedies and dramas. The film is crude, vulgar and obscene. However the film is pretty funny for what it is, just keep your humor expectations to be downright low brow, and you won't be disappointed. The film parodies some of the most memorable teen comedy films and it does in a unique way. The film sure as hell is stupid, but it definitely has good laughs. If you're in the mood for a mindless comedy, then this is a perfect film to watch. Don't expect a great comedy out of this one, you won't find it here. Expect something average with few good laughs here and there, and that's what you'll likely get. I very much the film for what it was, and it's the perfect film to watch with friends. The film has its flaws, but it succeeds at being entertaining and fun. As a comedy, I think that this film is a tad underrated and it doesn't deserve all the flack it has received. The film is downright silly, but that's the whole point of it. The film is supposed to be fun, it's supposed to be a good film to watch with friends, and it's most certainly that. The jokes are good, and laughs come and go. The cast do a good job, and the director does a great job at parodying key teen comedies that we're all familiar with. Of all the spoof films out there, this is among the most recent ones that doesn't suck, unlike date movie, epic movie and meet the Spartans. If you want an effective comedy that provides you with an hour and a half of decent laughs, this is your film.
Not Another Teen Movie Quotes
| | |
| --- | --- |
| Reggie Ray: | Coach says it's okay to bleed from the ears. |
| | |
| --- | --- |
| Amanda Becker: | Do you think I sleep with every guy who writes me a letter? No. I give them hand jobs. |
| Amanda Becker: | Do you think I sleep with every guy who writes me a letter? No. I give them hand jobs. |
| | |
| --- | --- |
| Priscilla: | You put the "suck" in "liposuction" You put the "ooo" in "jiu-jitsu" You put the "ism" in "This is all just a defense mechanism". |
| Priscilla: | You put the 'suck' in 'liposuction' You put the 'ooo' in 'jiu-jitsu' You put the 'ism' in 'This is all just a defense mechanism'. |
| | |
| --- | --- |
| Girl at Party: | Dude, you can't start a slow clap at any time and expect everyone to join in. |
| Girl at Party: | Dude, you can't start a slow clap at any time and expect everyone to join in. |