Not Easily Broken
(2009)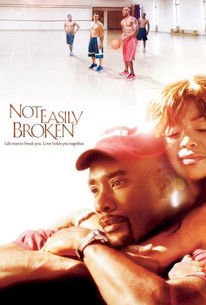 Movie Info
A couple's strength and faith are tested after the wife is injured in a car crash and husband becomes attracted to another woman.
News & Interviews for Not Easily Broken
Critic Reviews for Not Easily Broken
Audience Reviews for Not Easily Broken
A little over-the-top at times, but it had a good message.
Erin Collins
Super Reviewer
½
A little preachy and cheesy at times but it's actually a decent film for the most part. Good performances by Chestnut and Henson. Kevin Hart was entertaining but kind of stupid. With a better director and better writing it could have been a good film.
Chosen 718
Super Reviewer
½
a paint by numbers only using a trowel instead of a brush, this film has mostly cardboard throwaway charactors and a message that you couldn't miss with both eyes closed. Said message, all wrapped up in a nice religious bow, seems to be that the only true relationship can be found by submitting to the procreational urges of your man (in other words, here's a film for all you religous right - feminism be damned - sit down, shut up, dumb down, feed your man dinner, give him what he needs in the sack, and bear him children - it's your duty and the only path to happiness - what drivel). The acting here is solid by the males, but very uneven, especially by the female lead - although she is given a Herculean task considering the script. Loose ends abound as well as superflous charactors (the luke warm IQ friend is a head scratcher), and set scenes that seem to come from out of nowhere (hey, I know, I'll head down to the basketball gym, because I just know I'll find the bitter alchololic who won't let his son be on my little league team). In a final, almost self admission, the script writer virtually writes off the physical therapist in a totally unbelievable scene where she, while still grieving the recent loss of her son, gets consoled by the male lead (who has "feelings" for her) and then all of a sudden turns all lusty on him - only for him to turn away and be all noble (since he's just now decided to return to his wife - you gotta be kidding!!!!). The writer has taken a strong and one of his more fleshed out charactors, and then had her turn totally out of charactor - only to finally bury and forget about her (after all, she's just a single woman and doesn't fit into the church marriage theme), as she forgives his "I can't do this" refusal with a simple "I know" - holy!!!!, if you "know" why did you make a move on him in the first place!!! AAAAAARGH!.
paul sandberg
Super Reviewer
Not Easily Broken Quotes
There are no approved quotes yet for this movie.