Not of this Earth
(1988)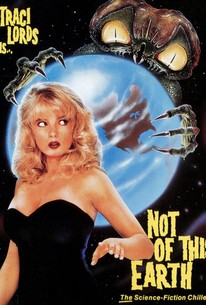 Movie Info
A stranger in town has some big plans that could mean the end of humanity as we know it in this blend of comedy and sci-fi thrills. Nadine Story (Traci Lords) is a nurse working in the office of Dr. Rochelle (Ace Mask) when she encounters a very unusual patient -- the mysterious Mr. Johnson (Arthur Roberts), who is always dressed in black, wears dark sunglasses indoors and demands a blood transfusion. After Dr. Rochelle tests Johnson's blood, he's surprised to discover the man's body isn't producing blood in the usual manner, and Johnson hires Nadine to work in his home and give him regular transfusions. As Nadine fends off the advances of Johnson's ex-con chauffeur and go-fer Jeremy (Lenny Juliano), he discovers that people have a habit of showing up at Johnson's door but not going home again. With her help of her boyfriend, a motorcycle cop named Harry (Roger Lodge), Nadine discovers Johnson has a shocking secret -- he's an emissary from the planet Davanna, who is looking for a ready supply of human blood his people need to survive. Not Of This Earth was a remake of the 1957 film of the same name directed by Roger Corman, who served as executive producer for this version as well as distributing the picture. It was the first mainstream feature for former adult film actress Traci Lords, and features her last nude scene to date.
Critic Reviews for Not of this Earth
Audience Reviews for Not of this Earth
Director/co-writer Jim Wynorski once again delivers undemanding low-budget '80s sci-fi fun with Traci Lords in her first and most popular mainstream film, perhaps because she appears in the nude for the final time. Plus she gives a good performance as nurse Nadine Story, trading snappy banter with small-time crook Jeremy after both gain employment from a mysterious man who always wears sunglasses, night and day. Turns out he's an alien testing Earth's blood supply and communicating with an emissary from his war-torn home planet Davanna who looks like he could be guitarist for a Swedish death metal band (and considering the actor's name is Zoran Hochstatter that may not be far off!) You might recognize Roger Lodge as policeman Harry from his time as sleazy host of the sleazy syndicated TV show Blind Date, and an unrecognizable Monique Gabrielle has a funny cameo as a loony bus stop lady. Awful effects and music and limp stalking sequences aside, Not Of This Earth provides an evening's worth of pleasingly shlocky entertainment. Fun With Credits: First we're subjected to a demented opening title sequence featuring clips from other '80s Roger Corman-produced movies which have absolutely nothing to do with this one, then at the very end of the closing credits comes the warning "Any unauthorized distribution of this film is an infringement of the copyright and will subject the infringer to severe civil and criminal prosecution -- not to mention a one-way ticket to Davanna."
Doctor Strangeblog
Super Reviewer
Not of this Earth Quotes
| | |
| --- | --- |
| Mr. Johnson: | he was crushed to the size of this communication |
| Mr. Johnson: | He was crushed to the size of this communication. |
| | |
| --- | --- |
| Mr. Johnson: | You may conceal your body, but I shall always be able to find your mind |
| Mr. Johnson: | You may conceal your body, but I shall always be able to find your mind. |
| | |
| --- | --- |
| Mr. Johnson: | Jeremy, who are those poor unfortunates? |
| | |
| --- | --- |
| Mr. Johnson: | Bums, what are bums? |