Not Suitable for Children
(2012)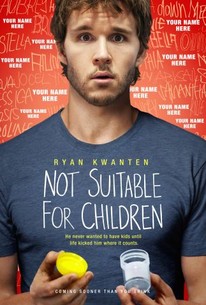 Not Suitable for Children Photos
Movie Info
A young playboy who learns he has one month until he becomes infertile sets out to procreate as much as possible.
Critic Reviews for Not Suitable for Children
Audience Reviews for Not Suitable for Children
This Australian movie was lovely. At first it's easy to write the characters off as just being completely irresponsible kids in their 20s, but then the tragedy that happens to the lead character, Ryan Kwanten, brings out the deeper aspects of them all. It was sweet, it was poignant, and it made me chuckle more than once. Not your typical rom-com. Very enjoyable...
Cynthia S.
Super Reviewer
½
This film certainly crawls out of the gate at first but it's one that keeps getting better and better and certainly ends on a high point. The idea of the film is pretty much full of opportunities for a lot of sex jokes, but the script, surprisingly, focuses on the characters and how his cancer diagnosis affects him and his friends. The idea that Jonah goes around trying to get one of his ex-girlfriends to have sex with him so he can have a child before he's infertile after his operation certainly could've been used to get a lot of laughs from the film and perhaps they were meant to, but I thought it helped develop Jonah's character more, with his desperation of trying to have a child before his time is up, so to speak. The thing about the movie is that, with the set-up, Jonah could've come across as a jerk but I thought the writing sort of avoided that and the story was definitely heartfelt and well-told. I also did like how Jonah's diagnosis, in the end, focused more on what Stevie went through and her changer rather than it just being about Jonah's quest for a child. The writing is smart and, again, heartfelt. It's obviously not a film that will revolutionize the romantic comedy genre, but it works and that's something I can't say for a lot of romantic films. The attraction between Jonah and Stevie feels natural and so does the progression of the relationship. The acting is more than solid, I found the cast to be very likable. Certainly helps make the first part of the movie easier to watch. I found this film to be pretty damn good and one that will, unfortunately, go unnoticed in the sea of romantic comedies. It's not perfect and it's not unique but it does what it sets out to do really well, so I can't complain.
Jesse Ortega
Super Reviewer
Australia has never had the best track record for normal films. Transvesites in a winnebago, check. Bodies in barrels, check. So it shouldn't really be a surprise that a film about a guy's race against infertility should come out of Australia. When Jonah finds out that the treatment for his testicular cancer will make him sterile, he sets out on a mission to make a baby before his time runs out. Such a subject isn't the easiest to stretch out over an hour and a half, so it's a tribute to writers Michael Lucas and Peter Templeman that the film is constantly charming with a wry sense of humour and sarcasm, executed brilliantly by the three leads. The writers have also nailed the characters here, as each of them could easily be locked up in their own stereotypes, but instead are real and layered with hidden depths. Jonah in particular could easily come off as unlikeable after his funny moron schtick wears off, but instead his character imbues the movie with a childlike innocence, despite its initially crude subject matter. Templeman also has a keen ear for every day conversation and the awkward intricacies it brings. Some of the film's funniest moments are in the cringe-worthy conversations between a guy who needs to find someone who wants a kid immediately and his confused subject. At its centre, however, the film is a romantic comedy, and Templeman never forgets to focus on the real relationships developing behind the babymaking farce. The main romance never feels unrealistic or cheaply found. Instead, the two characters grow together naturally through their own developments as characters and understanding of themselves. Making these characters a reality is a fantastic cast who are perfect for each of their roles. At the front of the pack is Ryan Kwanten. Most people will know the Aussie star from True Blood but he has kept returning home to make independent, cleverly strange films like Griff the Invisible. Here, his Jonah has touches of Jason Stackhouse's stupidity but he's such a likeable guy that he's instantly endeared to the audience. His journey from aloof playboy to earnest adult is forced upon him at first, but by the end of the film he has made the journey in his own right. It's a performance which you can't help but like thanks to Kwanten's great comedic sensibility and an ability to convey a vulnerability and depth in what could easily be a shallow, unlikeable character. His counterpart, Sarah Snook, is more than a match for Jonah as the sarcastic Stevie. She's always the first one to point out the stupidity of a situation and bring a little sanity to the works. However, her sense of humour makes it tough for her to connect with others emotionally, something which Snook displays perfectly. Her awkward manouvering through a real conversation is as touching as it is funny. Ryan Corr provides even more to the comic relief side of things as Gus, the housemate constantly in the dark, constantly on the very edge of knowing what's going on. Other performances from Bojana Novakovic, Alice Parkinson and Laura Brent are welcome additions to an already great cast. Almost a member of the cast in its own right is the soundtrack. Full of an eclectic mix of party tracks and subtler, softer choices, the music does a great deal to heighten the film while also working in the crux of each scene. Peter Templeman's direction is a cut above your average indy film: confidently restrained, cleverly dynamic and unafraid of earnest emotion. He handles every beat of the film with the flair of someone who doesn't even realise this is their debut feature. Having written the script, Templeman very clearly understands his subject matter and his characters and, more importantly, how to convey this through his direction. Whether it's an incisive close-up during a key moment for a character or tracking an oblivious Jonah through a pulsing crowd, Templeman adds a mood and a beauty to his film through his camera. Australia can either make very good films or very bad films. For every Animal Kingdom there's going to be a Bait to follow it up. Not Suitable for Children wobbles a little throughout, but it ends firmly in the good column. Defining Scene: The cringe-worthy hilarity of an arrangement with a lesbian couple.
Thomas Bowler
Super Reviewer
Not Suitable for Children Quotes
There are no approved quotes yet for this movie.