Not Without My Daughter
(1991)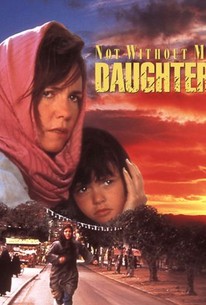 Not Without My Daughter Videos
Not Without My Daughter Photos
Movie Info
In this docudrama based on true events, a mid-'80s Michigan housewife finds her life turned upside down when a vacation to Tehran with her Iranian husband turns into virtual imprisonment for her and her young daughter. Betty Mahmoody (Sally Field) is reluctant to visit the wartorn homeland of her doctor husband, Moody (Alfred Molina). But, depressed about the racism of the American medical establishment and pining for contact with his family, Moody convinces her to join him for a two-week jaunt. The Islamic fundamentalism and strange customs of Iran bewilder and frighten Betty and her daughter, Mahtob (Sheila Rosenthal). But nothing prepares her for Moody's announcement that the family will be remaining in Tehran indefinitely. Despite beatings and more pervasive psychological control from her husband and his relatives, Betty makes it to the Swiss embassy (there is no American ambassador at the time). There, she learns that as the wife of an Iranian, she is now automatically considered a citizen and that she has absolutely no parental rights over Mahtob in this country. Betty then endures several years as a virtual prisoner, escaping only with the help of Westernized Iranian friends. Based on the book by the real-life Mahmoody and William Hoffer, Not Without My Daughter was coincidentally released during the long build-up to 1991's Gulf War.
Critic Reviews for Not Without My Daughter
Audience Reviews for Not Without My Daughter
Wow. This was an incredibly chilling and moving story with a great performance by Sally Field. I literally felt that I was Betty, experiencing the hostility toward women in Iran. She made me feel what she must have been feeling, being held hostage against her will in a foreign country where she is not treated equally to man. She lived in constant fear of being beaten or killed or having her child taken away. This movie is based on the true story of Betty's adventure as she tries to escape her abusive Iranian husband and return to America with her daughter. The ONLY negative thing I have to say about the movie is that the husband's demeanor seemed to dramatically change as he went from a loving, devoted husband and father to a brutal, controlling Muslim. The movie does not show many Muslim characters in a good light... in fact, the majority of the Muslims are shown to be uncaring and insensitive. I did not receive the movie as racist but I fear that others might. The culture was not shown in a very good light, in fact, I found myself thinking from time to time, "Praise God I live in America!" The American flag waving at the end is almost a little hokey even though it's supposed to represent triumph and freedom. The message I'm getting is: "America= Good Iran= Bad"" I'm sure not all of Iran is how Betty experienced it. Overall, an amazing and well-told story.
Dannielle Albert
Super Reviewer
Unlike the Mini Series, the Movie stayed true to the spirit of the book.
A depressing but courageous movie. It made me dislike those cultural beliefs even more.
Lafe Fredbjornson
Super Reviewer
Not Without My Daughter Quotes
There are no approved quotes yet for this movie.