Note by Note: The Making of Steinway L1037
(2007)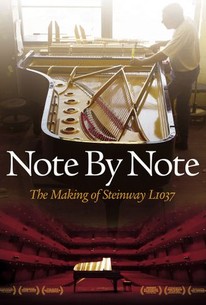 Note by Note: The Making of Steinway L1037 Photos
Movie Info
While in the 21st century many musical instruments are mass-produced on an assembly line, at the Steinway Factory in Queens, NY, grand pianos are still made largely by hand, much as they were centuries before, and each piano develops a tonal personality very much its own as it slowly takes shape in the hands of expert craftsmen. Note by Note: The Making of Steinway L1037 is a documentary from filmmaker Ben Niles that follows the meticulous process of creating one of these remarkable instruments, from the harvesting of the wood in the Pacific Northwest to the final touches before the piano is sent to the sales floor of a music store. Along the way, Niles talks to many of the people who have had a hand in the making of this piano, as well as those who later hear music being performed on the instrument. Note by Note was screened in competition at the 2007 Silverdocs Film Festival, a competition founded by the American Film Institute and the Discovery Channel.
Critic Reviews for Note by Note: The Making of Steinway L1037
Audience Reviews for Note by Note: The Making of Steinway L1037
Andrew Fillmore
Super Reviewer
"Note by Note: The Making of the Steinway L1037" is a slight documentary that functions as a de facto factory tour as it follows the making of a concert piano from the selection of lumber in Alaska to the finished product at the Steinway factory in Astoria, Queens. Sadly, there is little history(at least, I know how Steinway Street got its name now). Instead, the documentary takes a broad approach by being more about Queens, and its reputation as a multicultural borough where the pianos are made by a diverse group of people, both neighborhood guys and immigrants, contrasted with Manhattan, where the pianos, outside the price range of the craftsmen, are on display at the store at the corner of 57th Street and Sixth Avenue for potential customers. All of whom are united by music that they all help to create.
Note by Note: The Making of Steinway L1037 Quotes
There are no approved quotes yet for this movie.