Nothing But a Man
(1963)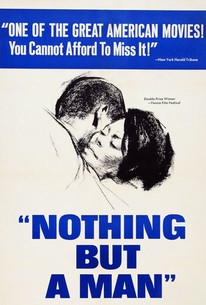 Movie Info
A landmark independent film, Nothing but a Man is the first dramatic story featuring a largely black cast created for an integrated audience (the work of black filmmakers such as Oscar Micheaux was intended for audiences who patronized black-only theaters). White filmmakers Michael Roemer and Robert M. Young traveled through the South in 1962 in search of ideas for a fiction feature set during the growing turbulence of the civil rights era. Their story, based in Alabama but shot in southern New Jersey, is only tangentially related to the movement toward equality. Duff, an itinerant black railroad laborer (Ivan Dixon), romances and marries Josie, a small-town preacher's daughter (Abbey Lincoln). Duff insists on being treated with respect, but his stance is personal rather than political. After he settles down in the town with Josie, he comes up against white bosses who want to make sure he knows his place and black men such as Josie's father who don't want to rock the boat for fear of losing what little advantage they have. Duff's relationship with his own father (Julius Harris), a broken-down drunk living in Birmingham, teaches him valuable lessons about dignity and self-worth. The film was lauded at both the New York and Venice festivals but received limited release in theaters specializing in foreign and independent film. However, word of mouth in the black community (where Nothing but a Man was for years a staple on the 16 mm rental market, in the days before VCRs) and continued attention by film historians have ensured the status of Nothing but a Man as a pioneering and enduring work. ~ Tom Wiener, Rovi
News & Interviews for Nothing But a Man
Critic Reviews for Nothing But a Man
Audience Reviews for Nothing But a Man
½
I became engrossed with Nothing But a Man recently, which is the story of a young, black man in Alabama of the 1960's and his journey in becoming a strong and responsible husband and father. In a way, it feels as though you're watching a documentary. Excellent work from Ivan Dixon (Kinch...for those familiar w/ Hogan's Hero), Abbey Lincoln, Gloria Foster, Julius Harris and Yaphet Kotto with bit parts for Moses Gunn and Richard Ward.
A man trying to make a voice while making inner changes for himself. I thought the main character's father (Harris) played an outstanding role for being an alcoholic father who never cared about his son.
Nothing But a Man Quotes
There are no approved quotes yet for this movie.