Nothing but Trouble
(1991)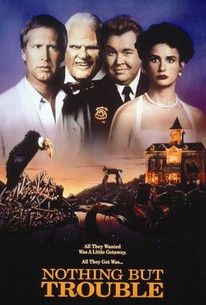 TOMATOMETER
AUDIENCE SCORE
Critic Consensus: There's nothing good in Nothing But Trouble, a grotesque comedy that is more likely to make audiences ill than make them laugh.
Nothing but Trouble Photos
Movie Info
Actor Dan Aykroyd made his directorial debut with this bizarre comic fantasy. Financier Chris Thorne (Chevy Chase) hopes to impress beautiful Diane Lightson (Demi Moore), so he invites her along for a trip to Atlantic City, with a pair of wealthy Brazilians, Fausto (Taylor Negron) and Renalda (Bertila Damas) tagging along for the ride. After running a stop sign in a small town just off the New Jersey turnpike, Chris and his friends are pulled over and arrested by a motorcycle cop named Denis (John Candy). The travellers are brought before J.P. (Aykroyd), the ancient and vindictive Justice of the Peace in the very strange village of Valkevania, where minor traffic offenses are usually punished by torture or death. While Fausto and Renalda are able to escape, Chris and Diane find themselves trapped in a bizarre underground maze in which fellow tourists like themselves must fight for their lives. Keep an eye peeled for the screen debut of Tupac Shakur, who appears as a member of the rap group Digital Underground.
Critic Reviews for Nothing but Trouble
Audience Reviews for Nothing but Trouble
New York professionals are imprisoned (for speeding) by a self-appointed judge in his ramshackle house inside his own New Jersey fiefdom. With a grotesque pair of adult babies and a ridiculous rap number, Dan Akroyd, Chevy Chase, and Demi Moore would prefer you forget they were ever in this flop comedy-it's even an embarrassment in the filmography of Tupac Shakur. Still, it's never boring, the junkyard production design is not bad, and if you watch it in the right spirit of mockery it's actually sort of entertaining.
It's not the best comedy ever or really a good film. Anyway with it's black comedy, scary characters with an odd situation Nothing But Trouble, doesn't have enough material for the great cast of comedians, but still is unforgetable (at least for me) and could bring a nice time with a few laughs. It's not so terrible like everybody says.
Lucas Martins
Super Reviewer
½
This wasn't the funniest or even the best movie ever made, but it certainly wasn't the worst. I laughed at alot of the jokes and I enjoyed the characters, although the huge baby twins were kinda disgusting. I loved Dan Aykroyd in this movie. I loved the way his character talked and his makeup effects were great. I miss John Candy terribly. He was always funny in whatever movie he starred in. I think he was one of the greatest comic actors ever. He was the highlight of this movie and did a good job with both of his characters, Dennis and Eldona. I think "Nothing But Trouble" would be classified as a black comedy but it was a good black comedy. I can understand why most would think this was a bad movie but there are definitely worse movies than this one out there. This movie was funny, entertaining, and not at all boring. I would definitely recommend this one to anyone who enjoys dark comedies and to anyone who likes Dan Aykroyd and John Candy. I don't particularly care for Demi Moore but thought she was ok in this movie. And Chevy Chase was funny like always. Like I said, this wasn't the best movie ever made but it wasn't the worst. I enjoyed this movie. Take a look and judge for yourself
David Ladd
Super Reviewer
Nothing but Trouble Quotes
There are no approved quotes yet for this movie.