Nothing Lasts Forever
(1984)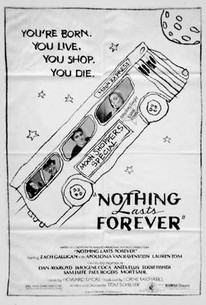 AUDIENCE SCORE
Critic Consensus: No consensus yet.
Nothing Lasts Forever Photos
Movie Info
In near-future New York City, a struggling artist is forced to take a job directing traffic after he is denied a government permit. Things begin to look up, however, when he finds romance with an underground artist and goes on a shopping spree to the moon in this off-beat comedy.
Critic Reviews for Nothing Lasts Forever
All Critics (2) | Fresh (1) | Rotten (1)
A dreary failure.
August 8, 2014 | Rating: 1.5/5
Nothing Lasts Forever surpasses its status as an oddity in the history of film. While it could've been an indie classic alongside the likes of Ed Wood had it been released a decade later, it stands as a funny, albeit weird, commentary on art.
Audience Reviews for Nothing Lasts Forever
½
"Nothing Lasts Forever" is a peculiar, boldly stylized fantasy with heavy ties to early "Saturday Night Live" (writer/director Tom Schiller, producer Lorne Michaels, composer Howard Shore, Dan Aykroyd, Bill Murray). Contrived to look like a '40s B-movie, it's mostly shot in woozy black and white, minus two important sequences. "Forever" is nearly a work of singular genius, except the conclusion fails to deliver on the promise of the first half. Zach Galligan ("Gremlins") is Adam Beckett, a young idealist who returns to New York from Europe with naive plans of being an artist. He has no demonstrated talent and hasn't even chosen a medium. But in this alternate New York, the Port Authority runs the city and is fiercely strict about which would-be artists are accepted into the population (apparently, Toulouse-Lautrec is also caught in the bureaucracy). The chief hurdle is an aptitude test, where Adam has to sketch a flirty nude within three minutes. The resulting product is one of the film's best laughs. His weak performance results in him being relegated to an Orwellian traffic-control post, with Aykroyd briefly portraying his grizzled supervisor. Eventually, Adam finds favor with a secret underground organization and earns an unlikely trip to the moon. Via bus. Romance and creative inspiration await him. There a few old-fashioned, orchestrated songs that are quite well-written -- the title tune adds an amazing dubbed vocal -- and Eddie Fisher even turns up to sing "Oh, My Papa." Imogene Coca, Mort Sahl and Calvert "Larry 'Bud' Melman" DeForest are also in the cast.
Eric Broome
Super Reviewer
Technically brilliant; but the themes and the tempo only come together for the last section. Until then, there's student-film-type philosophizing that doesn't go deep enough to keep away student-type boredom. As a pastiche, the movie is more than technically brilliant; it brings filmmaking styles from the 40s and 50s back to life, on even footing with the modern stuff. The morale: Nothing lasts forever, but in a way, you can believe that anything Beautiful does. All in all, this one has a lot of charm.
Adam Mahler
Super Reviewer
Nothing Lasts Forever Quotes
There are no approved quotes yet for this movie.