Nothing Like the Holidays
(2008)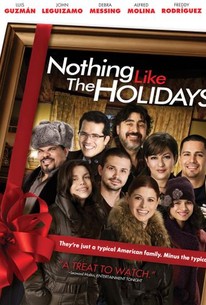 TOMATOMETER
AUDIENCE SCORE
Critic Consensus: The performances are the strength of Nothing Like the Holidays, a rather ordinary holiday comedy with a latin twist.
Nothing Like the Holidays Photos
Movie Info
Freddy Rodriguez, John Leguizamo, Debra Messing, Alfred Molina, and Elizabeth Peña star in Washington Heights director Alfredo de Villa's earnest family drama about the importance of familial relationships in times of personal crisis. The snow is falling and Christmas has come to Chicago. For the Rodriguez family, there is particular cause to celebrate this year; youngest sibling Jesse (Rodriguez) has recently returned home safe and sound after fighting in the war overseas. But as the members of the Rodriguez family converge on their parent's home, there's a strange sense of tension lingering heavy in the cool winter air. Despite the fact that Jesse is doing his best to get back in the good graces of his old flame, she seems reluctant to forgive him for leaving in the first place. Meanwhile, his older sister, Roxanna, has little to show for time spent chasing her Hollywood dreams, and eldest brother Mauricio (Leguizamo) is married to a high-strung executive who seems more interested in advancing her career than starting a family. But while none of this sits too well with concerned mother Anna (Peña), the bombshell she's about to drop could prove the straw that broke this family's back. When Anna announces to her children that she is planning to divorce their father, Eduardo (Molina), Roxanna, Jesse, and Mauricio instinctively pull together and begin to reevaluate their past while looking at the future in a whole new light. Later, as lingering resentments are let go and weakened bonds are reaffirmed, the Rodriquez family begins to experience the healing power of laughter while discovering that together as a family they are far stronger than they ever could be apart. ~ Jason Buchanan, Rovi
News & Interviews for Nothing Like the Holidays
Critic Reviews for Nothing Like the Holidays
Audience Reviews for Nothing Like the Holidays
½
*** out of **** If one can get past the countless remakes, modernized adaptations, and clichéd love stories that tend to identify with most Christmas fare in the service of film; a film such as "Nothing Like the Holidays" might just come off as, oh I don't know, refreshing. It's a good old fashion family comedy; taking place during the holidays and dealing with a very big family. And while this is, in theory, an ordinary family - how many recent Christmas films are composed of an almost all Latino cast? As one can predict, I'm about to dedicate an entire paragraph to naming the different members of the family; both by blood and extended. It mostly consists of parents, their kids (all of whom have grown up), and some long-time family friends. The parents are Edy (Alfred Molina) and Anna Rodriguez (Elizabeth Pena); the kids are Jesse (Freddy Rodriguez), actress Roxanne (Vanessa Ferlito), and Mauricio (John Leguizamo); the friends include Mauricio's wife Sarah (Debra Messing), thug-type Ozzy (Jay Hernandez), Jesse's ex-girlfriend Marissa(Melonie Diaz), and flamboyant joker Johnny (Luis Guzman). Jesse has just returned home from Iraq; and his family embraces him with open arms. Everyone is at home for the holidays; and it appears to have been a while since this has last happened. Once everyone has arrived, the great big family settles down for a nice dinner; which ends on a not-so-nice note. There are tensions and personal demons brought to the table amongst the good food; which will get in the way of the family's happiness throughout the story. There's a secret that father Edy feels he must keep, the possibility of a divorce for him and Anna, and some flawed relationships between other characters as well. But as you can probably tell, this is a Christmas comedy of warmth and heart; thus, everything will turn out for the best in the end. We know this - when walking in, at least - and if we're smart enough, we won't hold it against the film that it's as predictable as it is. Christmas movies almost always have to follow some sort of formula - especially when they're in the mainstream - nowadays, and "Nothing Like the Holidays" is one of the best holiday comedies I've seen in a long time. It may be sappy, but not in an annoying or preachy way. It's heartfelt, funny, and honest. For starters, the screenplay is smart; and it works, in part, because of the casting, which simply couldn't be any better. The actors get to be themselves in each individual role; and we sense that they are having fun with it all the way through. But then again, there are a few moments in the film meant to elicit some kind of emotion - perhaps one that is even, say, strong - so these performers are required to break free from the joy and develop into something more and something deeper, if only for a few moments. They are more than capable of doing so. The film is set in Chicago; a good choice of location for the story, I think. It gives the characters a lot to do, and some places to go, especially when certain ones (in particular) need some private time with a selected other. There's a wonderful scene where Roxanne and Ozzy go for a stroll at a local ice-rink; the conversation is heartfelt, the location is a perfect fit, and the atmosphere is warm enough to drown out the cold. There is indeed a surplus of other wonderful scenes to top it off in this movie; although it wouldn't do me much good to describe all - or any more - of them. I might lose some credibility. Think about why you go to Christmas movies in the first place. Do you go to simply watch the movie and bitch about it afterwards? Do you hate the predictability, the melodrama, and (gasp) even the warmth of the moment? If you're that sort of Grinch, then you won't find anything to like from this film; because it picks a narrative style and that is one of tradition. Sure, the film has its flaws - there are a lot of characters and therefore a lot of stories; some of them are better explored and fleshed-out than others - but that didn't stop me from accepting the fact that "Nothing Like the Holidays" is simply nothing like most of the other Christmas movies of recent. And if that, a great cast, smart dialogue, and a lot of heart aren't enough to truly satisfy you; then you've got a nigh incurable case of killjoy.
Ryan Marshall
Super Reviewer
½
nothing like a Latino Christmas movie in October:-) I've seen better, but I've seen a LOT worse("Surviving Christmas" anyone?)
Everett Johnson
Super Reviewer
½
Every holiday season brings a selection of flicks calculated to give moviegoers a saccharine sweet viewing experience. More often than not, however, these forgettable lackluster efforts often seem earmarked for the discount bin of the local video store from the get-go. Try as it might, the well-intentioned Nothing Like the Holidays cannot fight this fickle finger of fatalism. The casting rings perfectly but the story panders to so many clichés and stock characters that the audience will be feeling like they are experiencing holiday déjà vu all over again. Moviegoers will laugh, they will cry, and they just might sleep too. In this PG-13-rated dramedy, secrets are revealed and bonds put to the test when the far-flung Rodriguez family (Leguizamo, Rodriguez, et al) reunites in Chicago at Christmastime. The cast's game players certainly invest a lot of verve into the film, which boosts its likeability tenfold. The ensemble-composed of John Leguizamo, Freddy Rodriguez, Jay Hernandez, Alfred Molina, Elizabeth Pena, Melonie Diaz, Luis Guzman, Vanessa Ferlito, and Debra Messing-give the project their all. This bullishness, however, does not stop the fact that John Q. Moviegoer has eaten this sort of fruitcake before—and countless times to boot. Personalities clash, revelations are made, love rears its head, and pratfalls ensue. The Hispanic infusion lends the material uniqueness, but the movie ultimately falters by shouldering each character (and filmgoer) with an axe to grind. The storyline involving Hernandez's gun-toting vendetta will surely set eyes a-rolling. Still, if good intentions were gradable, the movie would get high marks. Bottom line: Nothing doing.
Nothing Like the Holidays Quotes
There are no approved quotes yet for this movie.