Nothing Sacred
(1937)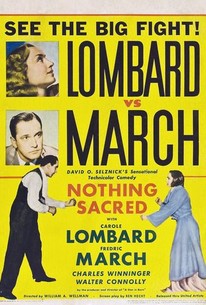 Movie Info
In this comedy, Wally Cook is a hotshot reporter condemned to writing obituaries. Anxious to get back in the good graces of his editor Oliver Stone, Cook pounces on the story of New England girl Hazel Flagg, who is reportedly dying from radiation poisoning.
Critic Reviews for Nothing Sacred
Audience Reviews for Nothing Sacred
Ben Hecht was as smart a writer as they come, his work notable chiefly for his cynical but humorous bite, a jaded, crusty, hardboiled view of humanity tinged with heart, and here is no exception. A wily big city reporter attempts to salvage his flagging reputation by milking a cute story about a dying small town woman ... only she's 100% in the pink. And he doesn't know that. Although already designed from the ground up as built for fun it still rests firmly on the charismatic shoulders of its two leads. Fredric March is more than capable as the reporter, particularly with the laidback visit to stoic Vermont scenes, but the thing takes off and flies every time Carole Lombard even comes close to camera time. Tasty!
Kevin M. Williams
Super Reviewer
Another thirties' screwball comedy from the ubiquitous and always entertaining Carole Lombard, there isn't too much hilarity ensuing in this film compared to later works, but does manage to entertain. Most of the time the film does so with its interesting plot, centered on heroine Hazel Flagg (Lombard). Hazel finds out from her beloved physician that she is in fact not dying from radium poisoning as she had previously learned. At that exact same moment reporter Wally Cook (March) arrives in town to find her, whisk her away from the small town where she lives, and promises that he will make her the toast of New York City. Never having traveled anywhere, and fixed recently on her mortality, Hazel lies and goes back with Wally. Of course she takes her physician, makes him lie, and oddly does become the toast of the city, even reducing people to tears at the mere sight of her on the street or in a club. Hazel revels in the attention, and the love of the city, all the while falling in love with Wally, who is using her himself in order to get back in the good graces of his editor after a botched charity event. Of course it is Lombard's performance that makes this film even a little famous, not only for her impeachable beauty and reputation for being a loud and impish actress, but also because she was genuinely funny throughout her career. Even here she is flawed for taking the trip, but lovable as she makes everyone fall for her. March is also entertaining as the handsome love interest, but is rather flat throughout most of the film. Once Wally is made aware of her circumstances (as always inevitably happens) he tries to keep the secret from his editor. This does lead to one questionable scene where Wally hits Hazel so she passes out and he can fake a disease so they can fool the editor. This film is also shot in Technicolor, which looks odd since this film came out in 1937, two years before "Gone with the Wind" and several years before it was considered acceptable to make most films in color. The shots of the city simply look off thanks to a lack of understanding when it came to the process. This film is also famous for being the first film shown on television with a commercial break. Because of Lombard this film still receives attention, but besides her presence, the rest of the film slips into melancholy more often than not, and doesn't take enough chances or advantages towards the film's premise.
Spencer S.
Super Reviewer
Although the romantic side of this movie is predictable, the comedy is good, and the story is interesting. It's not the best movie, but still pretty entertaining.
Nothing Sacred Quotes
| | |
| --- | --- |
| Dr. Enoch Downer: | You're a newspaperman. I can smell 'em. I've always been able to smell 'em. Excuse me while I open the window? |
| | |
| --- | --- |
| Wally Cook: | Listen, my dying swan, this is no time to stop faking! You're gonna have pneumonia and you're gonna have it good! |