Notting Hill
(1999)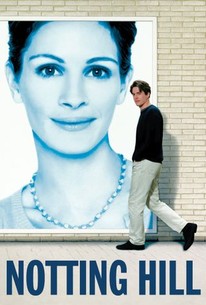 TOMATOMETER
AUDIENCE SCORE
Critic Consensus: A rom-com with the right ingredients, Notting Hill proves there's nothing like a love story well told -- especially when Hugh Grant and Julia Roberts are your leads.
Movie Info
Can a beautiful and internationally famous American actress find happiness with a frumpy British bookstore clerk? She can -- at least for a while, it seems -- in Notting Hill. William Thacker (played by Hugh Grant) is a bookseller at a shop in the Notting Hill district in West London, who shares a house with an eccentric Welsh friend, Spike (Rhys Ifans). One day, William is minding the store when in strolls Anna Scott (Julia Roberts), a lovely and well-known actress from the United States who is in London working on a film. She buys a book from William, and she is polite and charming in the way a famous actress would be with a star-struck sales clerk. Their relationship would logically end there, if William didn't run out a few minutes later to buy some juice. While dashing back to the shop, he bumps into Anna on the street, spilling juice all over her blouse. Since he lives nearby, William politely offers to let her stop by his house to clean up; since William seems harmless enough, Anna agrees. When Anna has to stop back to pick up a bag she left at William's house, they kiss -- just in time for Spike to show up. A romance slowly blooms as his friends and family (not to mention the world at large) wonder out loud what he's doing dating a movie star. Notting Hill reunites Hugh Grant with producer Duncan Kenworthy and screenwriter Richard Curtis, who previously worked together on the international hit Four Weddings And A Funeral. ~ Mark Deming, Rovi
Critic Reviews for Notting Hill
Audience Reviews for Notting Hill
½
Like I've said in a previous review, all a romantic comedy needs is a tangible chemistry between the two actors and a clever script. "Notting Hill" delivers the goods. It's lacking in many technical standpoints and can get a little too sappy at times, but the characters are so alluring and the script is so witty that it overcomes the choke points of this film. I found myself laughing out loud at the humor and I found myself really caring to see more progression within these characters' relationships. "Notting Hill"'s a great romantic comedy that's sure to please all movie-goers.
Personally endeared and irresistible, Notting Hill is a perfect dream - a beloved story that begins with a coincidence that has evolved into something greater between an ordinary man and a prominent actress. Notting Hill is perhaps imperfect, but beyond reason, Notting Hill capitalizes on basic human emotional vulnerabilities. Most charming.
Jan Marc Macababayao
Super Reviewer
Wonderfully funny movie, that can be seen over and over again. Brilliantly written, with great characters, a delightful cast and perfect chemistry between the actors. It's got more memorable scenes than several dozen's worth of your average rom-coms put together. In fact, I would even go as far as to say that it's my favourite "Brit flick" of all-time. It also gives you a very fascinating insight to the complicated reality that comes with being a movie star. I have a very sincere love for this film and I'm not afraid to say it. It's witty, it's heartfelt and beautifully narrated. But above all, incredibly moving. Too bad they never made a spin-off with the character "Spike", because every minute he's on screen is an absolute riot. Anyway, if you're looking for a cozy feel-good film to watch with someone special, then this is truly the perfect pick.
Notting Hill Quotes
| | |
| --- | --- |
| William Thacker: | You'd go and I'd be... well buggered, basically. |
| | |
| --- | --- |
| Spike: | "Nice firm buttocks !" |
| Spike: | Nice firm buttocks! |
| | |
| --- | --- |
| Bernie: | James Bond didn't have to deal with this sorta shit. |
| | |
| --- | --- |
| William Thacker: | I've opened Pandora's Box! |
| Spike: | I knew a girl named Pandora in High school once . . . Never did see her box though! |