November
(2005)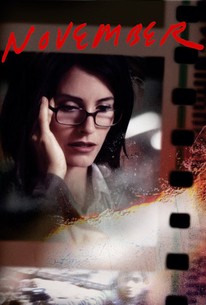 Movie Info
After a dinner out, photographer Sophie Jacobs and her boyfriend, Hugh, stop at a corner store for a late night snack. While Sophie waits unaware in the car, Hugh is murdered in a violent robbery. Haunted by guilt, Sophie goes on with her life as best she can: teaching photography at a local art college, meeting her mother for lunch, and visiting her therapist. But one day at school, a slide mysteriously appears in the projector's carousel -- an image of what looks like her car in front of the corner store the night of the shooting. Are these paranoid visions stemming from her grief and guilt, or does someone know something about the murder? As her investigation deepens, more strange events start to occur, drawing into question exactly what happened the night of Hugh's death.
Critic Reviews for November
Audience Reviews for November
In terms of being original it was very good and a different look at a bad situation, but it just left me confused as to what had actually happened. I don't think anyone other than the creators really know for certain what happened. It was very 'student film' and the acting was pretty bad in some places. Not something I'll be watching again and something I'd definitely recommend not to see.
Sophie Burgess
Super Reviewer
An interesting but ultimately pointless movie that tries WAY too hard for the "convoluted indie mystery" effect and generally fails. If your viewer is too confused to comprehend said mystery by the end of the film, then I think your final product isn't too good.
Drew Smith
Super Reviewer
Very interesting movie, that perhaps tries a little too hard to be different, and the resolution is unsatisfactory. But it features interesting camerawork, a clever story and a first-rate performance from Courteney Cox Arquette, who makes the transition from her usual comedy (Friends) and knowing horror (Scream) to drama with gutso. Her agent should definitely be booking her for more of these kinds of roles...
Daniel Parsons
Super Reviewer
November Quotes
There are no approved quotes yet for this movie.