Novocaine
(2001)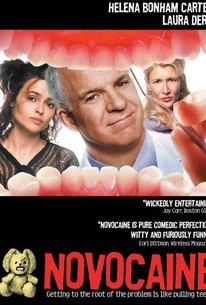 TOMATOMETER
AUDIENCE SCORE
Critic Consensus: The quirky Novocaine flirts with both dark comedy and noir suspense, but the result is a jarring mix of tones which never quite mesh.
Movie Info
In this darkly comic film noir from writer/director David Atkins, Steve Martin revisits dentistry -- an occupation he'd explored 15 years prior, in the camp musical Little Shop of Horrors. Novocaine casts Martin as a much more mild-mannered D.D.S., Dr. Frank Sangster. Engaged to a prim and delicate hygienist, Jean (Laura Dern), Sangster leads a placid, upper-middle class existence, save for the occasional visit from his deadbeat artist brother Harlan (Elias Koteas). But Sangster finds his life turned inside out from the moment the alluring Susan (Helena Bonham Carter) plops down in his reclining vinyl chair: Complaining about her molars, she's really more interested in the refrigerator of narcotics the good dentist keeps on hand for his patients in pain. Once they manage to get Sangster's guard down, Susan and her brother (Scott Caan) rob him blind -- and worse yet, frame him for the theft. When a dead body turns up in Sangster's sleek suburban home, he finds that clearing his name will be a difficult proposition indeed. Novocaine marks the directorial debut of screenwriter Atkins, who first made his mark with the script for Emir Kusturica's oddball cult favorite Arizona Dream (1993).
News & Interviews for Novocaine
Critic Reviews for Novocaine
Audience Reviews for Novocaine
Odd but strangely alluring, Novocaine is a suspenseful back comedy. After being seduced by a femme fatale, Dr. Frank Sangster finds himself caught up in a web of lies, sex, and murder. Starring Steve Martin, Helena Bonham Carter, Laura Dern, and Scott Caan, the cast is quite good, as are the performances (especially Carter's). Additionally, the writing balances the dark themes with light humor rather well. Still, the film does have some problems, as the tone's a bit uneven at times and most of the characters aren't fleshed out. Novocaine has some rough spots, but overall it's an entertaining film that's full of intrigue.
Dann Michalski
Super Reviewer
½
Martin took a chance in being in this little known, little seen, conspiracy thriller. It has an interesting concept and the plot is definitely worth following, but the ultimate villain isn't all that impressive or frightening. What makes this film especially unseemly has to be its reliance on black humor, which comes off less funny and more grotesque. There's this scene near the end that is so disgusting and gross that I don't even want to think about it, and that quickly veers it away from being interesting gumshoe mystery and into weird existential quandary. If the ending were a little less slovenly this film would probably be lauded for its intricate story and the great performance from Helena Bonham Carter as the drug dealer's (Caan) sister and the seductress of the dentist (Martin). Martin feels misplaced in the film, mostly because we're used to either subdued serious performances or out of control wackiness in comedies. It's just a little too all over the place to make it as memorable as it should be.
Spencer S.
Super Reviewer
½
This has been a quite entertaining movie. Not really a top notch movie, not really working as a comedy, but still pretty entertaining. It started out veeery slow and boooring - it took a little too long for it to evolve. But when it started to it got better and better. There's that very freaky story and a wrecked Bonham-Carter (she's good playin such characters ;-) adding most to this film. However the ending was a little too fantastic since it shouldn't be a problem for the forensics to ... no, I won't spoil hehe. My favourite scene was Martin's call where he spoke to that guy who answered the phone with "barbie's bakery. it's mr. muffin man speakin." LOL My overall rating is: 6.5/10 - if you're not sure what to watch, try this one. It works pretty well as entertainment
Cassandra Maples
Super Reviewer
Novocaine Quotes
| | |
| --- | --- |
| Jean Noble: | I've taken care of everybody my whole life, and I am fucking tired! I have organised everything, I have made everything perfect, I made everybody's lives work smoothly and I am tired of being a caretaker CO-DEPENDENT NO MORE! Do you know how hard it is to be perfect? When everybody need you to take care of them? Has anybody ever done that for me? Nobody has ever done that for me, nobody, NOBODY! And you know what? I am tired of everybody else getting all the stuff and me being left out. I wanna be the boss! I wanna be on top! Because I deserve it all! And I'm gonna get it! And if you don't understand that, you really a fucking idiot! |
| | |
| --- | --- |
| Mike: | Barbie's Bakery, it's Mr. Muffin speaking. |