Now and Then
(1995)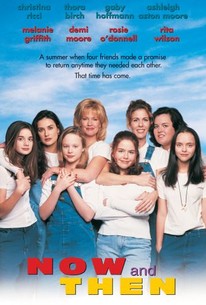 Movie Info
This wistful drama is set in the summer of 1970 and follows the adventures of four 12-year-old girls as they attempt to solve a murder. When not involved with that, the girls have fun, play pranks on the town boys, and talk about their rapidly changing lives and bodies.
Critic Reviews for Now and Then
Audience Reviews for Now and Then
Dull rather than bad. Good cast, particularly the younger girls. Thora Birch and Christina Ricci are always good. The older cast not so good. The 60's setting for the flashbacks didn't personally resonate for me, but I imagine they might for some who grew up in this era, with the outfits and soundtrack. The story is just too plodding and doesn't really go anywhere. I watched this all the way through when it was first released and remember being bored and unimpressed. I wondered if time and age might have softened my opinion. Unfortunately, I still find it a snoozefest. Gave up on it this time around 40 minutes in.
Nicki Marie
Super Reviewer
½
I really should not like this incredibly stupid movie, but I do. II can't help it, I'm a sucker for girl power reunion movies, no matter how formula they get. And I love how they just sort of pair up toward the end, and then separate, and then return. But seriously: Rosie O'Donnell as Christina Ricci grown up, what the hell?
Jennifer Xu
Super Reviewer
½
Interesting that only 19% of critics liked "Now and Then", yet 78% of Flixster users liked it. I am in the 78%. It is always interesting to see the kid and adult version of the same person in a movie, although I had to write a few notes to remember which kid was which adult. To me the adults the writer created from the four kids we are introduced to made sense.
Now and Then Quotes
| | |
| --- | --- |
| Crazy Pete: | I don't want to see a lot of people, I don't think they want to see a lot of me. |
| | |
| --- | --- |
| Vietnam Veteran: | Your parents aren't always right. |
| | |
| --- | --- |
| Samantha Albertson: | (Narrating) "You can run from the disappointments you're trying to forget. But its only when you embrace your past that you truly move forward. Maybe Thomas Wolfe never got to go home again, but I found my way there. And I'm glad I did." |
| Samantha Albertson: | [narrating] You can run from the disappointments you're trying to forget. But its only when you embrace your past that you truly move forward. Maybe Thomas Wolfe never got to go home again, but I found my way there. And I'm glad I did. |
| | |
| --- | --- |
| Samantha Albertson: | (Narrating) "We all used to try so hard to fit in. We wanted to look exactly alike, do all the same things, practically be the same person, but when we weren't looking that all changed. The tree house was supposed to bring us more independence, but what the summer actually brought was independence from each other." |
| Samantha Albertson: | [narrating] We all used to try so hard to fit in. We wanted to look exactly alike, do all the same things, practically be the same person, but when we weren't looking that all changed. The tree house was supposed to bring us more independence, but what the summer actually brought was independence from each other. |