Now Is Good
(2012)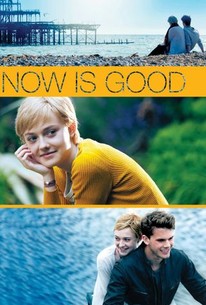 Movie Info
Tessa is seventeen and passionate about life. Diagnosed with a terminal illness, she determines to use every moment, compiling a catalogue of what a normal teenager would experience, including losing her virginity and taking drugs. With the help of her friend Zoey, she sets the list in motion. While her family deals with fear and grief, each in their own way, Tessa explores a whole new world. Falling in love with Adam, her new neighbour, wasn't on the list, but it proves to be the most exhilarating experience of them all.
Critic Reviews for Now Is Good
Audience Reviews for Now Is Good
Mixed feelings on this one. On one hand, very moving, but there were a few things that kept me from really liking this as much as I might have. The main one was the little plot with her friend's pregnancy. I didn't think it belonged in this story, and Tessa's reaction to her initial decision made me dislike her. Tessa also was a little bratty. I guess fair enough, a terminal illness at 17, I would probably be pissy too, but you kind of got that that was her personality. The premise was interesting, a girl trying to cram all she hadn't experienced into a short period of time, but I don't know that this truly succeeded. Dakota is good, as always, and manages a passable English accent. Although that always puts me off too, to be honest - well known actors faking accents. Why not use their own, or use an actor from that country. It's by no means bad, but I don't think I would like to watch if again.
Nicki Marie
Super Reviewer
½
Films based around terminal illnesses are a difficult ones to tackle from a filmmaking standpoint. They can cross the line of being sincere and sensitive to simply being manipulative and exploitative for awards. Now Is Good is not emotionally powerful it wants to be, but never solely manipulative to get your sympathy. Now is Good is about a girl, Tessa, dying of leukemia compiles a list of things she'd like to do before passing away. Clocking at around 103 minutes this often cliched story will not reach to you emotionally. That mostly because of how Tessa is written. Granted it's nice to see Tessa is not entirely depress knowing she's going to die and going against the general response anyone will have about her terminal illness. What's not good is making her appear as a brat in certain situations. Mostly she says awful things towards her father who helped her through every stepped since she was diagnosed with leukemia. You can't help at times but sympathize more with the father instead of the terminally ill Tessa. There's a romantic subplot that carries alot of dramatic weight. The romantic subplot can get corny at times. It adds layer Tessa which benefits how we care about her. One subplot that was unneeded involved Tessa best friend. It was created to manipulate the viewer emotions. It's a tragic subplot, but we don't see Tessa and her best together much to for strong story telling. Regardless of the script problems that sour the experience it's a satisfying story. Dakota Fanning is great in her dramatic role. She's sarcastic, enduring, and emotionally moving. She's give an skillful take on her role outshining all the actors. While it's at times hard to find Fanning likable because of how her character treats people she doesn't downplay those certain scenes in order for us to sympathize with her more. You grow an attachment to her making it difficult to watch scenes where she's being treated or learning bad news difficult to take in. Fanning co-stars were not as good, but that's nothing taking away from them. Co-star Jeremy Irvine is easy to a liking to with sensitive yet lighthearted nature. The other actors are fine, but the scenes between Jeremy Irvine and Dakota Fanning are easily the best. The production is modest. It's not going to impress in you anyway. The score is terrific, but are relied too heavily on to draw an emotion from the viewer. Now Is Good doesn't bring anything original to the story it telling, but a decent story and brilliant performance from Dakota Fanning overcome it shortcomings. It won't be as popular as other films tackling it subject matter, though it is a fantastic showcase for Dakota Fanning acting.
Caesar Mendez
Super Reviewer
½
"I was completely sobbing by the end of this film. Ugh, hate crying. But the movie was too heartbreaking and touching to keep them from spilling down. Seventeen year old Tessa is dying of leukemia. She is desperate to live as much as she can before her disease claims her life. Tessa is angry, as one would be in her position, and she acts out a lot against her parents. Her mother is a complete flake that infuriated me more than once during the movie. But her father, played by the great Paddy Considine, is nothing but caring and desperate to keep his baby girl alive and with him. But Tessa refuses any more treatment knowing it's only going to prolong the inevitable. Soon she meets Adam. He is just as important in this film as Tessa is. Adam becomes Tessa's first and last love. If it had to be anyone, he was the perfect choice. Adam helps Tessa accomplish some of the things on her list as well as helps her find out who she is in such a short period of time. He was everything she needed at the end. The acting is solid and Fanning does a good job with her british accent. It's my first time seeing Jeremy Irvine in a film. I really liked his performance. He brought a lot of emotion to his character. Paddy is always great. I love him in movies. It's a really good tear jerker. I would definitely see it again. I plan to read the book now that I've seen the movie. Hopefully the emotions poor out of the book as well as it did through these characters in the film."
♥˩ƳИИ ƜѲѲƉƧ♥
Super Reviewer
Now Is Good Quotes
There are no approved quotes yet for this movie.