Nowhere
(1997)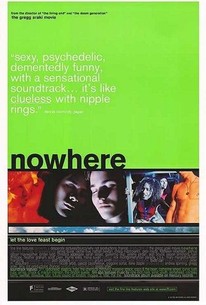 Movie Info
Described by director Gregg Araki as "A Beverly Hills 90210 episode on acid" (with no suggestions of what it might be cut with), Nowhere is a companion piece with Araki's previous meditations on youth gone wild in the 1990s, Totally F***ed Up and The Doom Generation -- Araki's self-described "teen apocalypse trilogy." Nowhere follows 18-year-old Dark Smith (James Duval) as he goes through a fairly typical day in Los Angeles. Dark needs, but rarely gets, emotional support from his girlfriend Mel (Rachel True). Mel, however, is also involved with a girl named Lucifer (Kathleen Robertson), while Dark moons over hunky Montgomery (Nathan Bexton). Dark's best friend Cowboy (Guillermo Diaz) has troubles of his own, as his boyfriend and bandmate Bart (Jeremy Jordan) is back on drugs and spending most of his time with his dealer. Mel's friends include sugar junkie Dingbat (Christina Applegate), doomsday poetess Alyssa (Jordan Ladd), and Egg (Sarah Lassez), who is being unexpectedly wooed by a Famous Teen Idol (Jason Simmons). Egg's brother Ducky (Scott Caan) has a crush on Alyssa, but she's keeping company with a biker named Elvis (Thyme Lewis). Alyssa's assignation with Elvis gets a psychic boost by her twin brother Shad (Ryan Phillippe) and his tryst with Lilith (Heather Graham). The day continues on a roller coaster of kinky sex, hallucinogenic drugs, random violence, romantic misunderstandings, alien abductions, and (of course) a wild party, this time at the home of noted hipster Jujyfruit (Gibby Haynes). Like The Doom Generation, Nowhere features a wealth of pop culture icons in cameo appearances, including John Ritter, Traci Lords, Charlotte Rae, Eve Plumb, and Shannen Doherty.
Critic Reviews for Nowhere
Audience Reviews for Nowhere
A well-orchestrated mess that revolves entirely around style. Araki's use of imagery and music is masterful. The script doesn't appear to communicate anything of much consequence, but the film is so absorbing and entertaining that it doesn't really matter.
½
Shallow L.A. teenagers take drugs and have kinky sex all day in preparation for the party of the year, while a rubber alien reptile occasionally stalks and abducts them. Mostly unfunny satire that tries to cover up its lack of ideas and humor with cheap irony and dimestore surrealism; probably should have been titled BILL & TED'S HOMOEROTIC HALLUCINATION.
no plot, no climax or any of that stuff. just a simple, pleasant look at teenagers in suburbia. dont think. just watch.
Coxxie Mild Sauce
Super Reviewer
Nowhere Quotes
There are no approved quotes yet for this movie.