Nowhere in Africa (Nirgendwo in Afrika)
(2001)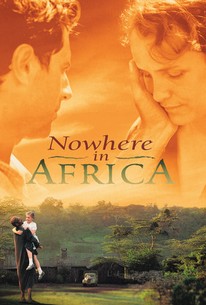 Nowhere in Africa (Nirgendwo in Afrika) Photos
Movie Info
A tale, which follows a young Jewish family from Germany to Kenya as they flee the Nazi regime at the onset of World War II. Jettel Redlich, of upper-class upbringing, and her daughter Regina, moves to Kenya to be with her husband Walter. Walter works as a farm manager, while Regina and Jettel are adjusting to their new home. Then Britain declares war on Germany, and the family is again separated. Through Jettel's affair with a British solider, her family is given preferential treatment. Regina is able to attend school and Walter is given a good job. But after the war, the family is too fractured to reunite and Walter contemplates a return to Germany, while Regina and Jettel have never felt more at home.
Critic Reviews for Nowhere in Africa (Nirgendwo in Afrika)
Audience Reviews for Nowhere in Africa (Nirgendwo in Afrika)
A Jewish family from Germany flees to Africa to avoid the rise of Hitler. The performances by all the main actors are absolutely excellent, especially by Merab Ninidze and Sidede Onyulo. The characters ring true, and the situations are all believable. Even the bratty behavior by Jettel, who misses the privileges of her life in Germany, seems logical when one remembers that she doesn't have the benefit of concentration camp photographs that have been handed down to us by history. Ironically and interestingly, what is frustrating about Nowhere in Africa is also one of its greatest strengths: once again, here is a film about Africa with white protagonists, so the racism inherent in never telling African stories from an African perspective continues. Yet the point behind Nowhere in Africa is that even victims of racism, in this case the Jewish family, can exhibit racist tendencies. It's a remarkable concept because unlike other films about Nazism it doesn't reduce the world into clearly defined categories of good and evil. The ending is unsatisfying, but the film opened a Pandora's Box with the complexity of its theme, and any ending that I can think of would ultimately be as reductive as the one the filmmakers chose. Overall, Nowhere in Africa is a very good, unique film if only for the cinematography, but the complexity of its theme and the sharpness of its characters make it quite extraordinary.
Jim Hunter
Super Reviewer
A different tale of WWll, that of an affluent Jewish family that escapes Germany to live dirt poor in Kenya. A very busy film, interesting and multileveled, with stuff constantly going on that threatens to break up the small clan, not the least being how they themselves disagree about Africa and her people, Germany and her people, and where is it that they really belong. Thoroughly engaging.
Kevin M. Williams
Super Reviewer
An excellent historical expose of exiled jews, and the trials they suffered during WWII. Very insightful film. One more take on the Nazi atrocities, and the resettlement of Jews. Interesting to show that there were those who believed enough in their German heritage to have the committment of reconstruction.
Cynthia S.
Super Reviewer
Nowhere in Africa (Nirgendwo in Afrika) Quotes
There are no approved quotes yet for this movie.