The Nude Bomb (The Return of Maxwell Smart)
(1980)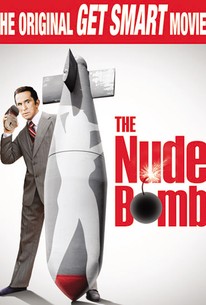 Movie Info
Maxwell Smart, the infamous Agent 86 from the '60s television sitcom Get Smart, makes his feature-film debut in this goofy espionage spoof. This time, Smart and his cohorts must stop enemy spies from detonating a bomb that would destroy all the world's clothing.
Critic Reviews for The Nude Bomb (The Return of Maxwell Smart)
Audience Reviews for The Nude Bomb (The Return of Maxwell Smart)
The original series ran from '65-'70 and this movie was made in 1980. It's not very good, but better than the remake with Steve Carell in my opinion because it maintains the humor and style of the original. The characters and concepts were created by Mel Brooks and Buck Henry so that should give you an idea of the type of humor. Evidently the producers wanted The Nude Bomb title and plot line, but some of the writers from the series had other ideas. The writers weren't allowed on set to prevent them from suggesting changes, but I think if the writers had been trusted more the movie could have been better. It's a PG movie, the nude bomb was hardly worth it. James Bond obviously became popular in the 60's, but there was a lot of spy fiction to spoof. The Pink Panther movies did the same thing with the same sort of pratfalls, non-sequitors, and bad puns. Then there were the Naked Gun movies and Austin Powers continuing to spoof spy adventures. But I was most surprised to realize that the 80's cartoon Inspector Gadget, which I grew up with, is basically a carbon copy of Get Smart from a couple decades before. Don Adams plays the same bumbling detective/agent character with often defective gadgets built into everyday items or on his person. The evil organization, how he completes his missions, a running gag about an agent that can hide in any object, it's all the same. Just do a couple minor cosmetic changes to a few supporting characters and the Get Smart formula got a second life for a few years in the 80's. If you liked the original Get Smart series or the cartoon Inspector Gadget, this probably won't blow you away, but you'll enjoy yourself for an hour and a half.
Byron Brubaker
Super Reviewer
The Nude Bomb (The Return of Maxwell Smart) Quotes
There are no approved quotes yet for this movie.