Nurse
(2014)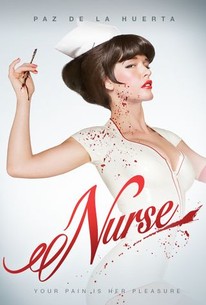 Movie Info
Nurse 3D is a thriller/horror film directed by Doug Aarniokoski and written by David Loughery starring Paz de la Huerta, Katrina Bowden, Corbin Bleu. By day Abby Russell is a dedicated nurse, someone you wouldn't hesitate to trust your life with. But by night, her real work begins...using her smoldering sexuality she lures cheating men to their brutal deaths and exposes them for who they really are. When a younger nurse starts to suspect Abby's actions and compromises her master plan, Abby must find a way to outsmart her long enough to bring the cheater you'd least expect to justice. (c) Lionsgate
Audience Reviews for Nurse
Starts out with a social message then gives up on that and becomes a not great horror movie.
Marcus Woolcott
Super Reviewer
½
While a little derivative and cheesy, Nurse 3D sort of works in a B-movie kind of way. The story follows a hospital nurse named Abby Russell who kills philandering men on the side, but when she becomes obsessed with one of the nurses in training she starts to get reckless. The performances are deliciously awful and really help to amp up the camp factor. Additionally, a lot of the CGI blood effects look quite fake (especially the ones meant for 3D). However, there's a nice bit of mystery and intrigue to the character of Abby Russell, and whether or not she'll get caught. Ghoulishly entertaining, Nurse 3D is a pretty formulaic horror film that doesn't take itself too seriously.
Dann Michalski
Super Reviewer
½
A more accurate title would have been "Gimmickpalooza!". This film that lauds itself as female driven is still at its core as male-focused as they come. Weird, but not in a good way.
Nurse Quotes
| | |
| --- | --- |
| Abby Russell: | My schedule's been murder. |
| | |
| --- | --- |
| Abby Russell: | Till death do us part. What would your wife think? |
| | |
| --- | --- |
| Abby Russell: | We're so lucky to have you. |
| | |
| --- | --- |
| Regina: | Do you have an angry face?! |