Nurse Betty
(2000)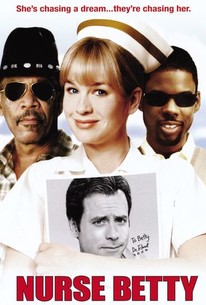 TOMATOMETER
AUDIENCE SCORE
Critic Consensus: Quirky in the best sense of the word, Nurse Betty finds director Neil LaBute corralling a talented cast in service of a sharp, imaginative script.
Movie Info
The winner of the Best Screenplay award at the 2000 Cannes Film Festival, this film is a darkly comic story about one woman's incredible determination to make her dreams come true against numerous odds. Fantasy collides with reality as Betty Sizemore, a small-town waitress and soap opera fan, inspires herself and everyone she meets to find at least a piece of their real selves throughout this romantic, dangerously funny road picture. The popular TV daytime drama "A Reason to Love" has an especially devoted viewer in Betty. One night, watching a videotape of that day's episode, she becomes an accidental witness to a deal going fatally awry for her no-good car salesman husband. Betty, traumatized, enters into a fugue state that allows - even encourages - her to keep functioning, in a kind of alternate reality. Betty Sizemore becomes "Nurse Betty," who is set on returning to the love of her life, the show's Dr. David Ravell. Betty promptly sets off for Los Angles in a "borrowed" 1997 Buick LeSabre - which is precisely what her late husband's killers are looking for. As Betty makes contact with Dr. Ravell and the hit men slowly but surely track her down, life begins to imitate art and vice versa.
News & Interviews for Nurse Betty
Critic Reviews for Nurse Betty
Audience Reviews for Nurse Betty
Not quite the 5 star movie I remembered, but still a pretty good one. Am rewatching some of my old DVDs and really enjoying them. Renee zellweger really was a good actress (still is, but I did like her earlier roles).
Nicki Marie
Super Reviewer
½
Neil LaBute's "Nurse Betty" is a remarkable film. While LaBute takes a lot from The Coen Brothers (determinism, shades of existential violence, a dash of film noir) and David Lynch (the collision of fantasy and reality) which cements his role as opportunist rather than auteur, "Nurse Betty" remains fresh, vibrant and funny. The film incredibly manages to balance three completely different avenues and makes them cohesive. You have hit men Morgan Freeman and Chris Rock in one section, the psychotically broken Betty and her adventures in Los Angeles in another and then characters from small town Kansas rounding things out. The film manages to find a way to intertwine these aspects in a satisfying and intriguing way, always remembering the the truth behind this wacky scenario. "Nurse Betty" shouldn't work, it should have been a massive, convoluted mess. But it's not. It's an incredibly sly, biting and extremely heartfelt picture with a dynamite Renee Zellweger at it's center.
Steven Carrier
Super Reviewer
A biting dark comedy with a refreshingly odd premise, "Nurse Betty" is another truly original film from director Neil LaBute. Like most of his films (INCLUDING "The Wicker Man") you sometimes don't know when to laugh, cry, or cringe... but that is precisely what makes (most of) his films so memorable and wonderful. Indeed, "Nurse Betty" is a wonderful film; easily ranking with LaBute's best. Stellar writing, colorful characters, and hilariously awkward situations abound, while Renee Zellweger has never been more lovable, infectious, or charismatic as she is here. A great, slightly-twisted chunk of entertainment.