The Nutcracker Prince
(1990)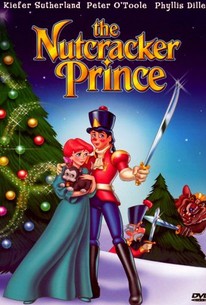 Movie Info
Based on E.T.A. Hoffman's classic book The Nutcracker and the Mouse King, this animated holiday tale utilizes the vocal talents of such stars as Kiefer Sutherland, Peter O'Toole and Phyllis Diller.
Critic Reviews for The Nutcracker Prince
Audience Reviews for The Nutcracker Prince
I will admit, I have seen the Nutcracker adaptations including the Barbie version and the Macaulay Culkin version (in which I did enjoy it really), but I think that this animated gem is the most faithful to the E.T.A. Hoffman story and the ballet in which it was based on. I was disappointed by the mixed reviews from the critics on this website who said "the animation was shoddy" and I think that it has some nice background and the colors were so lovely. The character models are fabulous and the Princess Perlipat story was explained quite well in a Looney Tunes-esque style. The voice acting is incredible. Megan Follows did great as Clara with her lovely voice, Phyllis Diller did a good job as the wicked and creepy Mousequeen, Peter O'Toole did great as Pantaloon who was so funny during the movie, Mike McDonald did a fantastic job portraying the funny and frightening Mouseking. Yes, there are some violence in a kids movie and would frighten those who are 8-12, but the action was very intense (I found that character a perfect description from the book since he was the one who had gotten so much abuse from his mother. In fact, I felt sorry for him). Peter Boretski did very good as Uncle Drosselmeier and let's not forget Kiefer Sutherland's amazing performance as Hans/The Nutcracker with just a right tone for the prince. The music is the best aspect throughout the entire film. The sparkling motifs from his beautiful ballet score captured the spirit of the story with emotional moments where Clara decides to go back to her home and grow up instead of staying with the Nutcracker which is heartbroken and her final battle with a dying Mouseking. The Nutcracker Prince is an enjoyable experience for me and I think this would be recommended to Nutcracker fans as not only one of the best Christmas films of all time, but one of the best Nutcracker adaptations to date from the classic 90s.
Gavin Cresswell
Super Reviewer
WOW, I had no idea that was Keifer Sutherland as the PRINCE! Now I need to watch it again. I haven't seen this film since I was a kid!
Remi Logan
Super Reviewer
½
Awesome movie! Nicely done, with nice animation.
Marion Ravenwood
Super Reviewer
The Nutcracker Prince Quotes
| | |
| --- | --- |
| Clara: | Oh, I don't know, I'm so confused. It's just, well, the Land of the Dolls is where you all belong. But I want to grow up. There's a million things I want to do; people to meet, worlds to explore. I've always wanted to dance in the ballet. Nutcracker, I do love you, but I can't stay in the Land of the Dolls forever. |
| | |
| --- | --- |
| Prince: | Your fight is with me, you miserable mouse! Not a defenseless old soldier! |
| | |
| --- | --- |
| Mouse Queen: | The spell you broke on your head falls, you shall crack nuts, prince of the dolls. |