Nuts
(1987)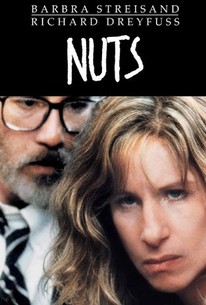 Movie Info
High-priced hooker Claudia Draper (Barbra Streisand) has been arrested for the murder of one of her clients. The attorney engaged by Claudia's parents hopes to cop an insanity plea so that she can avoid a trial and manslaughter conviction. But she refuses this, citing a proviso in New York law that may result in her spending the rest of her life in an institution. Against all odds, struggling lawyer Aaron Levinsky (Richard Dreyfuss) tries to prove that Claudia is not crazy and is capable of standing trial. He certainly has his work cut out for him; the violently impulsive Claudia is not only "nuts," but certifiably so. Though she has plenty of opportunity in Nuts to give out with her usual bravura Streisandisms, Streisand (who also produced the film and wrote the songs) is surprisingly restrained through most of the proceedings. And then there's that extended-monologue climax. Nuts was adapted by Tom Topor, Darryl Ponicsan, and Alvin Sargent from Topor's stage play.
Audience Reviews for Nuts
½
It was slightly unbelievable for me since if I'd such a client to defend who is not willing to co-operate the least, I don't think I'd touch that case. Or else give up easily. Then again, I ain't no lawyer!!! They show her crossing the limits so many times that it becomes hard to digest it that she ain't a nut. Leaving aside this minor problem, the movie works fine as a courtroom drama.
familiar stranger
Super Reviewer
Really powerful and intelligent film based on Tom Topor's Broadway play as this is a highly charged drama that raises some uneasy questions. This is a film that deserves more attention then it originally received, it is honest, though-provoking, and features a brilliant performance from Barbra Streisand as real-life defender Claudia Draper. Richard Dreyfuss also turns in his usual skilled performance as a lawyer who becomes more passionate about the case the longer he is involved with it. His eventual concern for Claudia is touching. And Karl Malden, Maureen Stapleton, James Whitmore, and Leslie Nielsen all play excellent supporting roles.
Dean McKenna
Super Reviewer
Nuts Quotes
There are no approved quotes yet for this movie.