Nymphomaniac: Volume II
(2014)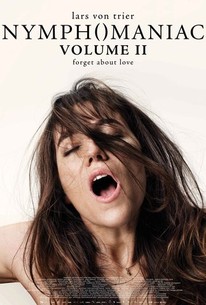 TOMATOMETER
AUDIENCE SCORE
Critic Consensus: It doesn't quite live up to the promise of the first installment, but Nymphomaniac: Volume II still benefits from Lars von Trier's singular craft and vision, as well as a bravura performance from Charlotte Gainsbourg.
Nymphomaniac: Volume II Photos
Movie Info
NYMPHOMANIAC: VOLUME II picks up with the story of Joe's adulthood, where her journey of self-discovery leads to darker complications. (c) Magnolia
Critic Reviews for Nymphomaniac: Volume II
Audience Reviews for Nymphomaniac: Volume II
Though notably less interesting than the first part, at least proposes some more intelligent discussions and wraps up its story as a powerful feminist statement about every woman's right to have pleasure from their own sexual impulses and desire.
Carlos Magalhães
Super Reviewer
The conclusion to the film that was made solely to get porn fans in cinemas around the world, is no less off-putting than the first, but the progression of her character is a little more endearing to watch, as she spirals out of control and becomes worse than you could have ever expected. The performances and camerawork all seem on a level above the first for some reason, but the ending to this story is such a slap in the face that you feel like you wasted four hours of your life. That is not an exaggeration, because everything that is set up on the side throughout the two films has the rug pulled out from under them. "Nymphomaniac: Volume 2" is a film, like it's predecessor, that was made for one purpose only, and I do not even feel like it succeeds in that respect. With average dialogue, odd camerawork, and editing that is either purposely bizarre or just downright terrible, this film fails on every level of filmmaking, even though I liked the progression of the story until the end. This conclusion is not as bad as the first film, but it is nothing to talk about either. Both films are hard to watch, and not even worth your viewing regardless.
While I equally enjoyed the second part in the foray into the life of Joe (Gainsbourg) I did not feel the same intensity and true form as von Trier's previous section. While I love Gainsbourg's performance and her beautifully off-putting narration, I found the plot wandering, lost to its own inhibitions. Joe's exploits are very focused on her own self-destruction but don't always show the emotional toll on her relationship with Jerome, and instead lets her wander into sexual situations with strangers without accord. Her struggle to be a good mother is completely eclipsed by her sexual prowess, as we keep cutting away to threesomes, BDSM, and unnecessary nudity. Her character's development is completely hindered by her exploits. We don't get to see her true desperation because she seems almost untouched by the aim of her actions. When she finally goes off on her own the plot becomes stale. She works in the crime syndicate which makes no sense, and though she does help manipulate a young person, there's still little insight into her own neurosis. Even with narration it's very unclear where the plot is going most of the time. The film ends on a very strange note, though it was definitely the perfect ending for this macabre tale. Overall, I would say this is the meandering second half to a very intense and forthcoming two-part film.
Spencer S.
Super Reviewer
Nymphomaniac: Volume II Quotes
| | |
| --- | --- |
| Joe: | Sexuality is the strongest force in human beings. |
| | |
| --- | --- |
| Joe: | I will stand up against all odds... just like a deformed tree on a hill. |
| | |
| --- | --- |
| Joe: | Human qualities can be expressed in one word: Hypocrisy. |