The Man of the Year (O Homem do Ano)
(2003)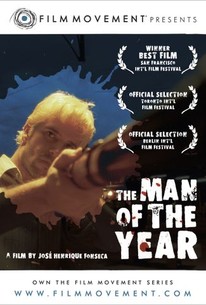 The Man of the Year (O Homem do Ano) Photos
Movie Info
A cinematic study of the bleak realities of modern day Brazil, O Homen do Ano (aka Man of the Year) follows the brooding Máiquel (Murilo Benicio) as he discovers that the smallest changes in life can make the biggest differences. Jobless and insecure to the point where he can't even face himself in the mirror, a terrified Máiquel enters a salon to have his hair died platinum blond after losing a soccer bet to a friend. His new look supplying an unexpected jolt of confidence, Máiquel asks Cledir (Claudia Abreu), the salon employee who died his hair, to join him at the bar in celebration. Taunted by local bully Suel upon arrival at the bar, Máiquel decides to settle the matter by purchasing a rifle and shooting down the loudmouthed Suel in the presence of Suel's young girlfriend (Natalia Lage). Unexpectedly hailed as a hero by his neighbors and the police, Suel's girlfriend subsequently approaches Máiquel and claims that since he killed Suel, it is now Miquel's responsibility to care for her. Simultaneously learning that Cledir is pregnant and anticipating a marriage proposal, Miquel's newfound reputation soon catches up to him as the dubious requests of influential locals begin to take their toll on him.
Critic Reviews for The Man of the Year (O Homem do Ano)
Audience Reviews for The Man of the Year (O Homem do Ano)
½
Interesting up to the point where it becomes like every crime film, "when everything is great and then it all turns to shit moment". I found it interesting that Maiquel was a complete psychopath.
Marion Ravenwood
Super Reviewer
The Man of the Year (O Homem do Ano) Quotes
There are no approved quotes yet for this movie.