Oblivion Island: Haruka and the Magic Mirror (Hottarake no shima - Haruka to maho no kagami)
(2009)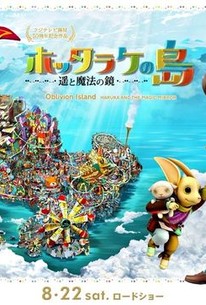 AUDIENCE SCORE
Critic Consensus: No consensus yet.
Oblivion Island: Haruka and the Magic Mirror (Hottarake no shima - Haruka to maho no kagami) Photos
Movie Info
A young woman unexpectedly finds herself transported into a mysterious netherworld in this digitally animated adventure from director Shinsuke Sato. 16-year-old Haruka (voice of Haruka Ayase) lost her mother when she was young, and before she died, her mother gave Haruka a special gift -- a hand mirror that was one of her prized possessions. While Haruka values the gift, she left it in her closet for some time, only to find it has gone missing some time later. Haruka notices a number of things disappearing from her home lately, and one day she discovers why -- a strange furry creature has been swiping small items from her room, and when it tries to steal her house keys, she follows it only to be led into a curious alternate dimension, where a city has been built from cast-off items taken from the homes of others. As Haruka searches for her mother's mirror in the alternate world, she must face off against its evil ruler, The Baron. Hottarake No Shima: Haruka To Maho No Kagami (aka Oblivion Island: Haruka and the Magic Mirror) was the first CGI animated feature from the established anime production house Production I.G..
Critic Reviews for Oblivion Island: Haruka and the Magic Mirror (Hottarake no shima - Haruka to maho no kagami)
All Critics (2) | Fresh (2) | Rotten (0)
As such it is a respectable and VERY spectacular matinee film for all the family, with lots of sauce but little meat. It doesn't help that it treads the same ground as Studio Ghibli's "The Cat Returns".
Audience Reviews for Oblivion Island: Haruka and the Magic Mirror (Hottarake no shima - Haruka to maho no kagami)
This was an absolute blast to watch and it's a absolute gem. I simply love this movie and has become one of my favorite animated movie. Oblivion Island Haruka and the Magic Mirror is about Haruka, a 16 year old who lost her mother and feels neglected by her father. One day when she discovers a fox-like creature stealing her keys, she follows it and is transported to a magical world. The plot might be not be complex, but it's filled with many likable characters that it's hard not smile while watching it. My favorite character being a stuffed animal named Cotton who I grew very fond of quickly and found adorable. The movie is mostly lighthearted with very few dramatic scenes which are done well. It's very imaginative too as common items such as buckets, spoons, rubber ducks, teddy bears, books, among many other objects are used to create Oblivion Island. It's very colorful making it the most appealing animated movie to look at for anyone. Now I'm giving a perfect rating because it I found it wonderful and delightful, it does some problem that some viewers might get pass as I did. Some sequences don't hang together well because the film doesn't build up some of the characters and their motivations. More demanding viewers will find it too simple, but if you're like me and enjoy it for it is you'll have a good time. The movie has heart and good lessons which shows with such a quality movie. While a majority of the movie is in 3D style animation, it does have some great hand drawn backgrounds in several scenes. The world itself is creative and filled with imagination. The visuals aren't bad considering this is not a Pixar or Dreamworks production film. There some really gorgeous scenes to be seen, there's nothing like seeing thousands of mirrors hanging from the sky and briefly seeing a stuffed animal on a stuffed horse leading an army of stuffed animals to battle. The voice acting is fantastic and done very well. I actually felt connected to these characters emotionally, especially Cotton who I enjoyed seeing allot. I saw this with my little brothers and he loved the film and shared the same affection for a certain character. It'll definitely appeals to kid and adults as long they're not expecting anything complex. Oblivion Island Haruka and the Magic Mirror is a delightful animated movie with heart, gorgeous visuals, likable characters, and simple, but well put together plot. I'll recommend this anyone who love animated movies or anyone looking for something outside the usual Pixar and Dreamworks experience.
Caesar Mendez
Super Reviewer
½
Memories, forgotten but never lost, are treasures. Crafted from sheer talent and prodigious imagination, Shinsuke Sato marvels with earnest and nostalgic narrative, fine artistry, and delicate animation in the masterpiece of Oblivion Island: Haruka And The Magic Mirror. Marvelous.
Jan Marc Macababayao
Super Reviewer
½
Oblivion Island: Haruka and the Magic Mirror, from Shinsuke Sato, is a colorful animation out of Japan.
In a nutshell, the film's plot is in the title. Haruka is on the hunt for her missing mirror, which is magical, on Oblivion Island. While this is good enough for a 90+ minute fantasy adventure, there is also the theme of friendship and family to bring in the heartwarming and family friendly atmosphere. The film itself doesn't necessarily drag at any point; however, even though most of the film takes place on this fantasy island, there isn't enough time spent to really get to know about its details or inhabitants. This is only a minor disappointment because there isn't any confusion regarding the main story.
Visually, this picture has got the characteristics of a Japanese animation, but in CG. Haruka is the only major human character, so there isn't much in the realism of the visuals to really worry about. All in all, the film is pleasing to see.
The protagonists are adorable, thanks to their looks and the voices of Haruka Ayase, Miyuki Sawashiro, and Tamaki Matsumoto. Iemasa Kayumi also provides a good voice for the major villain.
Oblivion Island: Haruka and the Magic Mirror does amuse and at the end of the day is a worthwhile watch.
Oblivion Island: Haruka and the Magic Mirror (Hottarake no shima - Haruka to maho no kagami) Quotes
There are no approved quotes yet for this movie.