Obvious Child
(2014)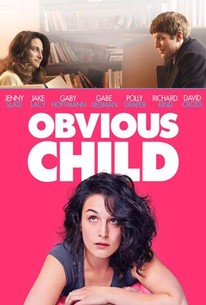 TOMATOMETER
AUDIENCE SCORE
Critic Consensus: Tackling a sensitive subject with maturity, honesty, and wit, Obvious Child serves as a deeply promising debut for writer-director Gillian Robespierre.
Movie Info
For aspiring comedian Donna Stern, everyday life as a female twenty-something provides ample material for her incredibly relatable brand of humor. On stage, Donna is unapologetically herself, joking about topics as intimate as her sex life and as crude as her day-old underwear. But when Donna gets dumped, loses her job, and finds herself pregnant just in time for Valentine's Day, she has to navigate the murky waters of independent adulthood for the first time. As she grapples with an uncertain financial future, an unwanted pregnancy, and a surprising new suitor, Donna begins to discover that the most terrifying thing about adulthood isn't facing it all on her own. It's allowing herself to accept the support and love of others. And be truly vulnerable. Never failing to find the comedy and humanity in each awkward situation she encounters, Donna finds out along the way what it means to be as brave in life as she is on stage. Anchored by a breakout performance from Jenny Slate, OBVIOUS CHILD is a winning discovery, packed tight with raw, energetic comedy and moments of poignant human honesty. Writer/Director Gillian Robespierre handles the topic of Donna's unwanted pregnancy with a refreshing matter-of-factness rarely seen onscreen. And with Donna, Slate and Robespierre have crafted a character for the ages - a female audiences will recognize, cheer for, and love. (C) A24
News & Interviews for Obvious Child
Critic Reviews for Obvious Child
Audience Reviews for Obvious Child
Meh. Couldn't be bothered with this. Watched 20 minutes. Was bored. Skimmed in a bit further. Still bored. I know from reading other reviews that this movie deals with abortion as a valid choice, and it's to be applauded for that, but I just didn't like the characters and I found the movie didn't make me want to watch on. Seriously. Just meh.
Nicki Marie
Super Reviewer
½
This film deals with the very problematic issue of abortion, in an assured and humorous way. All women have held fears about having to get an abortion sometime in their lives, whether due to scares or their own inner terror. There are so many questions to ask yourself when dealing with this tragically sensitive question, and director/writer Gillian Robespierre takes it to task. Jenny Slate gives a powerful performance as Donna, a stand-up comedian and out of work book store clerk whose life is falling apart. Recently dumped and made depressed, Donna has a one night stand and gets pregnant. Of course she freaks out, and has to rely on her support system for guidance during this trying time. Women are definitely scared of this process, but of course more frightened of the prospect of their loved ones looking down on them or feeling hatred from others. Robespierre gives women the tools to feel empowered but also sympathized with, by depicting the process realistically. The comedy in this film is also very edgy, and it cuts the tension at pivotal moments. The only underlying problem I found with the film was the romantic relationship between the two leads, which I could have done without. It was messy terrain to get through, because relationships do spring even after incidents like these, and men usually support women's decisions like this, but it just didn't hold my interest.
Spencer S.
Super Reviewer
½
A comedienne gets pregnant from a one-night stand and resolves to get an abortion, but when she encounters the father of her unborn child, she is torn about whether to confront him. There's a lot to like about this film. Jenny Slate gives a remarkably charming and funny performance, and the plot unfolds organically. What is more, it's one of the first pro-choice films I've ever seen. In almost all films, abortion is considered bad, weak, or otherwise undesirable. But Obvious Child treats abortion as a choice and a viable solution to a difficult, life-changing event. Also, the film's milieu is hipster chic. But unlike HBO's Girls, which from what I've seen is nothing more than a trite, deliberately shocking soap opera for hipsters by hipsters, Obvious Child doesn't require knowledge of, acceptance in, or agreement with hipster culture in order to enjoy the film. It's hipster without be too asshole about it. Overall, hipsters love mirrors, and here's a very flattering hipster mirror.
Jim Hunter
Super Reviewer