Ocean's 8
(2018)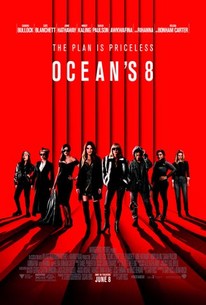 TOMATOMETER
AUDIENCE SCORE
Critic Consensus: Ocean's 8 isn't quite as smooth as its predecessors, but still has enough cast chemistry and flair to lift the price of a ticket from filmgoers up for an undemanding caper.
Movie Info
Upon her release from prison, Debbie, the estranged sister of legendary conman Danny Ocean, puts together a team of unstoppable crooks to pull of the heist of the century. Their goal is New York City's annual Met Gala, and a necklace worth in excess of 150 million dollars.
Critic Reviews for Ocean's 8
Audience Reviews for Ocean's 8
½
Ocean's Eight is a sad and lackluster attempt to revive the Ocean's franchise. After getting out of prison, Debbie Ocean (Danny's sister) puts together a crew to pull off an extravagant jewelry heist. The cast is pretty impressive (Sandra Bullock, Cate Blanchett, Anne Hathaway, Helena Bonham Carter), but they don't have any chemistry. And there's no fun. The writers makes a huge mistake right off the bat by killing Danny Ocean off screen and having his death loom over the film. And the cameos from the previous Ocean's films are rather weak. Additionally, there's nothing all that clever or exciting about the heist itself. Mediocre at best, Ocean's Eight lacks the style and attitude that made Steven Soderbergh's trilogy so successful.
Dann Michalski
Super Reviewer
½
Derivative, predictable and mostly unfunny (the dialogue is awful), this mediocre spin-off seems like written by someone who has never seen a heist movie in their life, unable to come up with any decent twist to make it worth it and being saved only by the amusing heist itself, which is fun.
Carlos Magalhães
Super Reviewer
The Ocean's movies, with the exception of the too-cool-for-school 12, have glided by on their charm, style, and a knack for having fun with cool characters and satisfying twists and turns. After 2007's rebounding Ocean's 13, it looked like the franchise was going back to dormancy, and then writer/director Gary Ross (The Hunger Games) resuscitated it with an all-female team, following the exploits of recently paroled Debbie Ocean (Sandra Bullock). Like her (recently deceased?!) older brother, Debbie has a big score in mind, the New York Met Gala, but more specifically a $150 million diamond necklace to be worn by self-involved acting starlet, Daphne Kluger (Anne Hathaway). Debbie gathers a team of specialists and, with the help of he best friend Lou (Cate Blanchett), the assembled eight schemes to get rich off the neck of Ms. Kluger. Like its predecessors, this movie glides on by thanks to fun characters to root for and a fun heist that packs enough setups, payoffs, and reversals. The heist formula demands a protracted setup but this gives way to a bevy of payoffs, when done correctly, and even more payoffs when complications must be dealt with in a rapid time. Each of the ladies get a significant part of the heist, though not all of them have the same level of memorable involvement in the movie itself. Ocean's Eight is a slick crime fantasy given a feminine twist, dipping into gaga fashions, killer jewelry, and celebrity worship. Bullock is a strong lead but it's Blanchett that won my heart, so confidant in her wardrobe of striking men's wear. Hathaway is a cut-up as a flaky actress needing constant validation. Part of the allure of the movie, and the heist itself, are the high-end clothes and accessories. Its prime escapism for the target audience to "ooo" and "ahhh," as my theater did. Ross follows the house style of Steven Soderbergh closely with lots of tracking shots, zooms, and a consistent sense of movement. The pacing is swift and thankfully there's a significant resolution after the heist that still finds time for even more payoffs. It's not quite on par with the original, but I'd declare Ocean's Eight the best of the sequels. It's fizzy fun, but what happens if there are three more of them? Nate's Grade: B
Nate Zoebl
Super Reviewer
Ocean's 8 Quotes
There are no approved quotes yet for this movie.