The Octagon
(1980)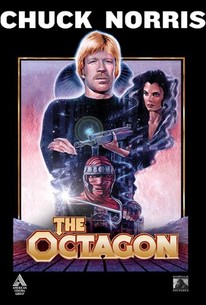 Movie Info
Karate champ Chuck Norris returns for another chop-socky vigilante flick in The Octagon, one of a handful of undistinguished Ninja pictures released during the early '80s. Norris appropriately plays a retired karate champ hired as a bodyguard for a wealthy woman (Karen Carlson) plagued by a gang of vicious ninjas. Reluctant at first to take the job, he reconsiders when he learns the gang is headed by his longtime arch rival Tadashi Yamashita (Lee Van Cleef). The script -- as is the case in nearly every Ninja film -- has holes bigger than Okinawa, and the acting is downright atrocious, particularly that of Norris, who, thankfully, improved with time. However, the production values are fair, as is the direction, and the action sequences are often exciting and comparatively realistic. Recommended for genre fans only.
Critic Reviews for The Octagon
All Critics (6) | Fresh (2) | Rotten (4) | DVD (1)
It's ambitious work but not always successful, with director Eric Karson biting off a little more than he can chew when it comes time to build momentum with such a top-heavy film.
Audience Reviews for The Octagon
½
My first Chuck Norris flick (save Sidekicks) and I gotta say, I didn't miss much. I mean this film is basically worth watching for yucks only. There are some incredible unintentional laughs (ie Chucks inner monologue (that appears an absurd amount) posseses an echoey whisper to it that just kills me). I never realised how gentle souled Chuck seems either. Plus, in 2008, the presence of ninjas in a film is just ridiculous. This sucker was a hoot, but I know I didn't miss much with the lack of Norris in my childhood. P.S. The joke that Chuck has no chin, that under his beard is just another fist, is sadly debunked in this film as he only has a creepy mustache.
Patrick Dolan
Super Reviewer
It's my first-time American martial arts movie to deal with ninjas I watched. Super duel between Chuck Norris and the excellent Tadashi Yamashita, instead comes an unbelievable letdown.
Dean McKenna
Super Reviewer
The Octagon Quotes
There are no approved quotes yet for this movie.