Oculus
(2014)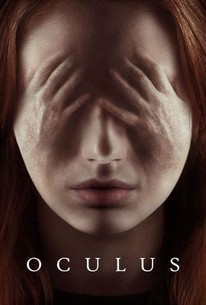 TOMATOMETER
AUDIENCE SCORE
Critic Consensus: With an emphasis on dread over gore and an ending that leaves the door wide open for sequels, Oculus could be just the first spine-tingling chapter in a new franchise for discerning horror fans.
Movie Info
Ten years ago, tragedy struck the Russell family, leaving the lives of teenage siblings Tim and Kaylie forever changed when Tim was convicted of the brutal murder of their parents. Now in his 20s, Tim is newly released from protective custody and only wants to move on with his life; but Kaylie, still haunted by that fateful night, is convinced her parents' deaths were caused by something else altogether: a malevolent supernatural force unleashed through the Lasser Glass, an antique mirror in their childhood home. Determined to prove Tim's innocence, Kaylie tracks down the mirror, only to learn similar deaths have befallen previous owners over the past century. With the mysterious entity now back in their hands, Tim and Kaylie soon find their hold on reality shattered by terrifying hallucinations, and realize, too late, that their childhood nightmare is beginning again... (c) Relativity
News & Interviews for Oculus
Critic Reviews for Oculus
Audience Reviews for Oculus
½
After watching "Oculus" for the first time I was just a little disappointed, because though there are many frightening elements to this story, it's much more of a psychological mystery than a horror film. Thinking this was more of a ghost story, I went in expecting specters, and a clear, concise ending, but this film surprised me. Leaving much of this ambiguous for the viewer, the film is a fully realized thought experiment about paranormal investigations, and how much of these characters' actions can be blamed on this mirror's influence, or their own mental illness. I didn't like this ambiguity at first, but after letting the film simmer in my brain for a couple of days I was still thinking through the complexities of the premise of the story. I could easily watch this again and again, toiling over what the events of the story mean, and whether the mirror really is haunted. The great thing about this film is that it stays with you, seeps into you, until, like the mirror's influence, it takes hold. There aren't many horror films that can boast such complexities. I wouldn't be surprised if, like recent horror trends, this film spurs sequels, but I hope it doesn't. The ending was perfect, fusing the past and present in a furious whirlwind, never letting us know exactly what transpired in that house. It was confusing at times, since it melded two separate narratives, and included hallucinations, but it controlled its story well and ended perfectly. Any sequel would botch the nuanced aspects of this modern horror classic.
Spencer S.
Super Reviewer
Mike Flanagan's Oculus brings some thrills to the horror genre. Spanning a little over 90 minutes, the film's first half and build up is a highlight. The time jumps with the storytelling, along with the film's concept, unleash a boatload of mystery and intrigue. With that said, the final act ends up muddled and unfulfilling, as if the ball was dropped midway through. A few scare cliches are employed from time to time, but the scares are lean in the grand scheme of things. Instead the film feeds off of the creepy atmosphere and the R-rated violence. Karen Gillan is quite the performer and is a strength of this picture. Katee Sackhoff gets a little creepy, which is what is asked of her. Brenton Thwaites ends up overshadowed by Gillan. Thanks to its strong first half, Oculus is in the better end of the spectrum and becomes a recommendable horror thriller. Be careful with those light bulbs.
½
Oculus is freaky. That's all you need to know. Now go see it. If you want me to go in more detail, I won't. The narrative progression explains everything you need to know and there's nary a plot hole in sight. The performances are solid and the story is unique. Jumping through different time periods, Oculus chronicles the story of a mirror that siblings Kaylie and Tim think is haunted and is responsible for the murder of their parents. Tim spent eleven years in prison undergoing psychiatric evaluation for being convicted of this murder. But Kaylie knows the truth, or at least she thinks she does. This mirror has a crazy defense mechanism in that it can possess you, make you do things or transport you to places without you being aware. The jumping through different time periods goes a little into excessive hyperdrive in the third act but it's still intense. There is some predictability, but overall, this is a well made horror film. Mike Flanagan shows great control over the visual style and the story, and the actors completely sell the story. This film is just as scary and as enjoyably effective as The Conjuring.
Edward Boxler
Super Reviewer
Oculus Quotes
| | |
| --- | --- |
| Kaylie Russell: | My name is Kaylie Ann Russell. The purpose of today's experiment is to prove the object behind me is responsible for at least 45 deaths in the 4 centuries of it's recorded existence. |
| | |
| --- | --- |
| Kaylie Russell: | Hello again. You must be hungry. |
| | |
| --- | --- |
| Alan Russell: | I've met my demons, I have many. I've seen the devil, he is me. |