Odd Thomas
(2014)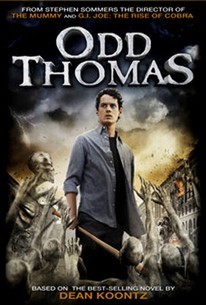 Movie Info
Small-town fry cook Odd Thomas (Anton Yelchin) is an ordinary guy with a paranormal secret: he sees dead people, everywhere. When a creepy stranger shows-up with an entourage of ghostly bodachs - predators who feed on pain and portend mass destruction - Odd knows that his town is in serious trouble. Teaming up with his sweetheart Stormy (Addison Timlin) and the local sheriff (Willem Dafoe), Odd plunges into an epic battle of good vs evil to try to stop a disaster of apocalyptic proportions. Based on the best-selling thriller by Dean Koontz, Odd Thomas is a supernatural action thrill-ride from the acclaimed director of The Mummy and G.I. Joe: Rise of the Cobra. (c) Image
Critic Reviews for Odd Thomas
Audience Reviews for Odd Thomas
A very lighthearted approach to some very grim subject matter. But it works.
Seeming very nearly like the setup piece for a imminent TV series, this film creatively introduces a hero who uses his supernatural gifts to fight crime, which pretty much sounds like a CW offering come to think of it. It relies on quite a lot of CGI for the action but, while seldom boring, it also fails to completely engage. We are given Characterization Light so as to speed us along to the next action sequence lest we get bored, left with the feeling that we'll get more in depth stuff once the series starts up. Oh well.
Kevin M. Williams
Super Reviewer
Quirky indie adaptations are becoming a new trend in filmmaking. While it traditionally costs a lot of money to adapt a book, television show, graphic novel, or blog into a film, indies are relying more and more on quirk and fantastical premises to push through popular media. Between this film and "John Dies at the End," it's clear that these films aren't going anywhere, anytime soon. Read more at http://www.bluefairyblog.com/reviews/2015/8/30/odd-thomas
Spencer S.
Super Reviewer
Odd Thomas Quotes
There are no approved quotes yet for this movie.