Odds Against Tomorrow
(1959)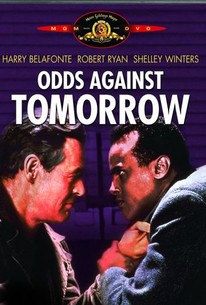 Odds Against Tomorrow Photos
Movie Info
Though not as well known as other genre entries, Odds Against Tomorrow is considered the last of the true '40s and '50s film noirs. Featuring a dark jazz score, a brooding atmosphere, and racially conscious themes, Odds is the story of a robbery gone awry. The downward spiral begins when ruthless killer and crook Eric Slater teams up with crooked ex-cop Dave Burke, and deeply indebted gambler/lounge singer Johnny Ingram to rob a bank in upstate New York. Trouble arises from the start because Slater has an insane hatred for African Americans and Ingram is black. Ingram, who owes a fortune to homosexual gangster Bacco, is desperate to get the needed cash lest Bacco harm Ingram's family. Tensions between Ingram and Slater are high from the start, but Burke mediates, and they proceed with their plan. Right off the bat, things go terribly wrong. First, Slater is recognized by a gas station attendant while Ingram is required to fill out police paperwork after he witnesses an accident. In order to get into the bank, Ingram impersonates a delivery boy and brings food to the bank employees. Unfortunately, the real delivery boy shows up with the cops. A shoot-out ensues and Burke is hit. Unable to get the other two the keys to the getaway car, he shoots himself. Meanwhile Slater and Ingram flee to an oil refinery. Unable to contain their mutual hatred, the two begin shooting. A stray bullet blows up a nearby tanker and themselves. The charred cinders of their bodies are found after the inferno subsides. With the grisly remains barely recognizable as human let alone black or white, the pointlessness of their hatred and bigotry stands as their greatest legacy.
Critic Reviews for Odds Against Tomorrow
Audience Reviews for Odds Against Tomorrow
Solid crime caper is a little heavy on the symbolism but is well acted and tightly directed with an intriguing and apt music score. Gloria Grahame, who looks pretty rough, is wasted in a small meaningless part.
Good stuff. It's been quite a few years since the last time I saw a Harry Belafonte film, I had forgotten just what a tremendous actor he really is (was). This is a noir classic that will hold your attention wire to wire. Note: Did the ending remind anyone else of White Heat? ("Top of the world, Ma!")
Randy Tippy
Super Reviewer
One of the last great noir films. Robert Wise's direction is superb as are all the performances. You feel bad for everyone (well, except maybe Robert Ryan) and the climax (As well as most of the movie) is almost heartbreaking even if it's completely expected.
Michael Gildea
Super Reviewer
Odds Against Tomorrow Quotes
There are no approved quotes yet for this movie.