Of Gods and Men
(2011)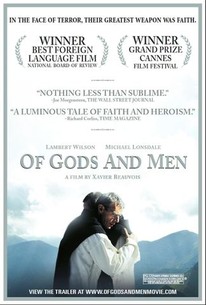 TOMATOMETER
AUDIENCE SCORE
Critic Consensus: Patient and restrained, Of Gods and Men asks deep, profound questions that will linger in the audience's mind long after the movie.
Movie Info
Eight French Christian monks live in harmony with their Muslim brothers in a monastery perched in the mountains of North Africa in the 1990s. When a crew of foreign workers is massacred by an Islamic fundamentalist group, fear sweeps though the region. The army offers them protection, but the monks refuse. Should they leave? Despite the growing menace in their midst, they slowly realize that they have no choice but to stay... come what may. This film is loosely based on the life of the Cistercian monks of Tibhirine in Algeria, from 1993 until their kidnapping in 1996. -- (C) Sony Pictures Classics
Critic Reviews for Of Gods and Men
Audience Reviews for Of Gods and Men
½
Knowing the premise, I expected a film about christian monks having to deal with an Islamic terrorist siege, discussions of faith and terror, but there is little of that. The film instead takes forever to introduce the monastery and the monks' connection to the local open minded Muslim community. The daily routine of praying, singing and working takes way too much space here, the film easily could have clocked in 20 minutes shorter and still gotten all its points across. When terror ultimately strikes on the monks it is only hinted at and ends in a walk into the mist. Of course you gotta appreciate the film not creating a sensationalist ending, but after the long set-up, the inevitable is still a let-down.
½
A wonderful and heartbreaking film that moved me to tears with a story (based on real events) that takes the necessary time with a deliberate pace to introduce us to each of the characters and their lives together, and make us truly care about them and their tense situation.
Carlos Magalhães
Super Reviewer
A group of Trappist monks must decide to flee or remain when a nearby village is threatened by Muslim extremists. As slow burns go, Of Gods and Men is one of the most compelling. Tightly scripted and slowly but tensely paced, as this story unfolds, the film's themes emerge subtly: the film portrays the austerity of faith and how faith leads to a sense of security and conviction. While I'm not personally committed to these theses, the film's portrayal is richly textured and compelling. By the end of the film, we get to know these monks about as well as we get to know anyone in an understated French film, and it's hard not to admire them. Overall, this is profound and compelling story well-told.
Jim Hunter
Super Reviewer
Of Gods and Men Quotes
| | |
| --- | --- |
| Christophe: | Let God set the table here. For everyone. Friends and enemies. |
| | |
| --- | --- |
| Christophe: | Dying here…here and now…Does it serve a purpose? I don't know. I feel like I'm going mad. |
| Christian: | It's true that staying here is as mad as becoming a monk. Remember. You already gave your life. You gave it by following Christ. When you decided to leave everything. Your life, your family, your country. The family you could have raised. |
| Christophe: | I don't know if it's true any more. I pray. And I hear nothing. i don't get it. Why be martyrs? For God? To be heroes? To prove we're the best? |
| Christian: | We're martyrs out of love, out of fidelity. If death overtakes us, despite ourselves, because up to the end, we'll try to avoid it, our mission here is to be brothers to all. remember that love is eternal hope. Love endures everything. |
| | |
| --- | --- |
| Luc: | We are in a high-risk situation, but we persist in our faith and our confidence in God. It is through poverty, failure and death that we advance toward him. |
| | |
| --- | --- |
| Luc: | I'm not scared of terrorists, even less of the army. And I'm not scared of death. I'm a free man. |