Off the Map
(2003)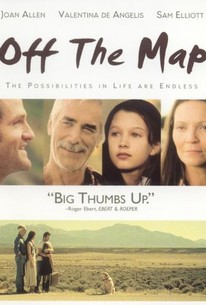 Movie Info
Bo is a young girl, living in rural New Mexico, who yearns to feel a connection to the world she perceives as beginning outside the lines of her tiny town. Her father is depressed; her mother is the archetype of an earth mother. Bo meanwhile writes to various snack-cake manufacturers describing the ailments their products have given her and requesting replacements. But the family grows its own food and has a stockpile of firewood that will last years. That sets the stage for the visit from the IRS, sent to see why the family hasn't filed any income taxes.
Critic Reviews for Off the Map
Audience Reviews for Off the Map
Sort of a Zen meditation about the accident that leads us to decide to discover what life is all about, that needs to discover in fact. Sometimes the writing and presentation is awkward but it comes off like well meaning, teenager-in-love awkwardness and, because of that, bearable. Beautiful New Mexico desert scenery dominates. Very approachable.
Kevin M. Williams
Super Reviewer
Ok, so the concept behind this movie is maybe better than the movie itself, and the precociousness of Valentina De Angelis's character might be just a bit too much, but other than that, I don't really have any complaints about this movie. It has a good story, interesting characters, good performances and really nice cinematography. It's a smaller, quieter, indie film, and I'm really happy about that. I can't see this film being better otherwise. This movie makes me want to live in New Mexico. I already want to anyway, but this makes me want to even more.
Chris Weber
Super Reviewer
"It was inescapable, my Father's depression, like some fumigator's mist filling our lungs. It came to be the focal point of our lives that summer..." A story of a family living "off the map" trying to cope with an extremely depressed husband and father, played by Sam Elliott. All their lives become strangely affected when they are visited by an auditor (Jim True-Frost) from the IRS. It seemed like an honest portrayal of some of the sides of depression and how family and friends are affected and react to it. Campbell Scott, the director, captured the despair, loneliness and deep love that these characters felt for one another. There was some disconnect though in the film that separated the audience, which was a shame. Brilliant performances by Sam Elliott and Joan Allen.
Off the Map Quotes
There are no approved quotes yet for this movie.