The Offence
(1973)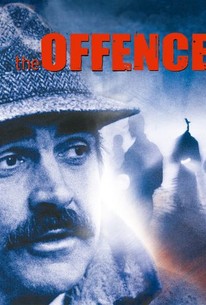 Movie Info
Sergeant Johnson (Sean Connery) has been a steady and reliable policeman for many years. However, something snaps in him during his interrogation of Baxter (Ian Bannen), a suspected child molester, and he kills the man. Before he dies under increasingly brutal questioning by Johnson, Baxter calls attention to the strange moral ambiguity of his questioner. Johnson is suspended from the force while this incident is being investigated, and it eventually comes out that he was molested as a child.
Critic Reviews for The Offence
Audience Reviews for The Offence
½
Impressive work of Sean Connery as Detective Sgt. Johnson, resisting in front of colleagues and in his private life not to spill the cesspool inside his mind. The immersion in this man's shattered mind reminded me vaguely of Guy de Maupassant's short story "Diary of a Madman" in wich a guardian of law and order becomes obsessed with the crimes he has witnessed throughout his life, up to the point that he loses reason, and begins to feel the same drive, thirst of the criminals for harming or killing any other living beings. One thing I criticize are the constant breaks of time and continuity, something I hadn't seen in a pragmatic director -mostly free of gimmicks- like Sidney Lumet, but I value the dim atmosphere he manages to create, and of course the great assemble cast of Ian Bannen, Trevor Howard and Vivien Merchant.
Pierluigi Puccini
Super Reviewer
If you take a look at some of the other movies Sean Connery was making during and immediately after his tenure as James Bond, they reveal an actor working desperately hard not to be typecast. His roles of this period include a frustrated poet, a scheming would-be inheritor, a prisoner in a British army glasshouse, a master thief and an Irish-American terrorist. And in perhaps the ultimate subversion of Bond's reputation as a lady-killer, Alfred Hitchcock cast him in Marnie as the man who blackmails Tippi Hedren's titular kleptomaniac into marriage and then rapes her. By the end of the Sixties, Connery had broken away from the 007 franchise and was free to pick and choose the parts he wanted to play, yet he returned to the fold for Diamonds Are Forever just four years after quitting. Why? Well, the obvious answer would be: for the money. And it's true, he did squeeze a fortune out of United Artists - an estimated $15.9 million, adjusted for inflation. But perhaps the clincher was United Artists' promise to finance two modestly budgeted projects of Connery's own choosing. The second of these, a proposed adaptation of Macbeth, was thwarted by the release of the Roman Polanski version and never went into production, but Connery's other pet project, an adaptation of a more recent play, John Hopkins' This Story of Yours, became Sidney Lumet's The Offence. In addition to its curiosity value as a small film without which a much bigger picture might never have been made, The Offence is a superb movie in its own right and deserves to be better known. I would actually rate this as my second favourite of Lumet's films - after Dog Day Afternoon, in case you're interested - and Connery's performance in it as being among his finest work. He plays Detective Sergeant Johnson, a burned-out policeman obsessively hunting a child molester in a ghastly unspecified New Town. In the aftermath of the latest attack, a dishevelled and agitated man, played by Ian Bannen, is brought in for questioning. Johnson is convinced of the man's guilt and decides to extract a speedy confession, with tragic consequences. Lumet is regarded as an actors' director, not really known for possessing an elaborate style, but with the fractured narrative, the flashes back and forth in time, the slow motion and dream sequences, he really pulls out all the stops here to make the material as cinematic as possible. The way in which Johnson is haunted, not so much by the terrible things he has witnessed but by his imaginative ability to see the world through his quarry's eyes - the very thing that makes him good at his job - prefigures Michael Mann's Manhunter by well over a decade. The Offence also bears interesting comparison with another film of 1972, coincidentally also made in England by an American and adapted from a stage play, Joseph L. Mankiewicz's Sleuth. Both of these pictures centre on a duel to the death in which, perversely, it is the winner who forfeits his life.
The writer of this moving and disturbing film, John Hopkins, once said that to understand the nature of human evil one must first look inwards at oneself. Therein lie the answers. With 'The Offence', Hopkins took this philosophy to the limit and created a stunning portrayal of latent evil emerging from the wrecked personality of a good man. Sean Connery's plays a cop who has seen too much of the dark side of human nature. The relentlessly brutal horrors of his job have eroded his human decency to the point where his own perverse subconscious urges are lured to the surface. Connery's failure to articulate his own tortured feelings leads to frustration and hostility as he becomes alienated him from his wife and colleagues. To his horror he realises that the only person who truly understands his pain is a suspected child molester (played with slippery relish by the late great Ian Bannen). Eventually, Connery's growing emotional dependency on Bannen leads to violent catharsis and death. Sidney Lumet has never quite made a film like this before or since. Although he is on familiar ground - cops under intolerable pressure - the dream-like cinematic textures achieved here are reminiscent (though not imitative) of Welles and Tarkovsky. The film is an acting tour de force: Connery and Bannen give the performances of their lives. Vivien Merchant and Trevor Howard are also compelling in vital supporting roles. Harrison Birtwhistle's sophisticated musical score supports the characters and scenes perfectly. 'The Offence' is one of the few films which accurately captures the bleak, estranged architecture of the many English New Towns that sprang up in the 50's and 60's. Lumet's eye for these soul-sucking landscapes is brilliant - better than that of most English directors. Originally conceived as 'workers paradises' by over zealous town-planners, these would-be concrete utopias rapidly became focal points of social malaise. It is fitting that Connery's troubled character should live and work in such desolation. The story is not only emotionally complex but has an ambitious, multi-layered, time-shifted narrative structure that echoes the fractured memory of Connery's character. Lumet takes all these elements and shapes them into an unforgettable portrait of human frailty.
Cassandra Maples
Super Reviewer