Office Christmas Party
(2016)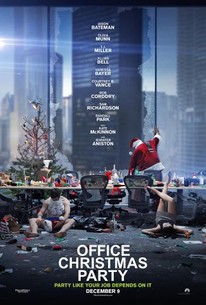 TOMATOMETER
AUDIENCE SCORE
Critic Consensus: Its cast of gifted comics is good for a handful of laughs, but Office Christmas Party's overstuffed plot ultimately proves roughly as disappointing as its clichéd gags and forced sentimentality.
Office Christmas Party Videos
Office Christmas Party Photos
Movie Info
In OFFICE CHRISTMAS PARTY, when the CEO (Jennifer Aniston) tries to close her hard-partying brother's branch, he (T.J. Miller) and his Chief Technical Officer (Jason Bateman) must rally their co-workers and host an epic office Christmas party in an effort to impress a potential client and close a sale that will save their jobs. The latest comedy from directors Josh Gordon and Will Speck (BLADES OF GLORY) co-stars Kate McKinnon, Olivia Munn, Jillian Bell, Rob Corddry, Vanessa Bayer, Randall Park, Sam Richardson, Jamie Chung, and Courtney B. Vance in the funniest movie of the holiday season.
News & Interviews for Office Christmas Party
Critic Reviews for Office Christmas Party
Audience Reviews for Office Christmas Party
½
So upon reading about this movie, seeing the title and seeing the poster, I came to the conclusion that this was very possibly very similar to many American Christmas sitcom episodes that we've seen over the years (but naughtier). Indeed the whole premise and vibe felt very much like an episode of [i]Friends[/i] or more closely [i]The Office[/i], more so the latter. Nonetheless, being a comedy I was intrigued at the idea as I do enjoy a merry Xmas flick and the whole office scenario seemed like the perfect setting for some good solid filthy laughs. Essentially what you have here is this large company being run by a buffoon with good intentions (Clay played by T.J. Miller). His staff are generally hard working but include the various stereotypical types that you just know will turn up in something like this. Basically this particular branch of the company hasn't met its quarterly quota, and apparently this means instant terminations and possible shut down of the branch (familiar yet?). So its decided that the only way to try and get important clients is to hold a mega Christmas bash to show what kind of company they are. Naturally Carol the CEO (Jennifer Aniston) does not like this idea and puts the kibosh on it, naturally the minute she leaves for London Clay and co do it anyway. At first the shindig is a bust, but as the party slowly grows wilder and more riotous, things naturally get more and more hazardous and out of control for the few staff members we are following. And then just when things couldn't get any worse, Carol the CEO turns up because her flight was cancelled. So taking a quick look at the characters, what do we have? Well as I already said the branch manager Clay is a man who means well but is unfortunately incapable of running an entire office. He seems more interested in having a lark and acting like a child. His boss (and sister), Carol the CEO is of course a complete bitch, ruthless, strict, frustratingly sexy, seemingly never happy and jealous that their father apparently favoured Clay. Lower down the ranks there is Josh (Jason Bateman) who is your all round nice guy, gets on with everyone, is quite clever and is headhunted by Carol for her NYC office. Below Josh is Tracey who is head of tech, a hot female nerd basically. Then you have Mary (Kate McKinnon) who is a jobsworth and thoroughly frigid all round. Nate is yet another tech nerd but this time a full on stereotypical scrawny Asian/Indian nerd complete with thick rim glasses. Jeremy is a grouchy middle aged employee who kinda says what he thinks and has no tact. Then you have Allison who is a single mum and kinda desperate for any kind of relationship and Fred the newbie who has a baby fetish (wanting to be mothered like a baby). So yeah, all in all the characters don't really offer much in the realms of originality. Jennifer Aniston has literally already played the exact same role in 'Horrible Bosses', the only difference being she was a slutty evil bitch. Jason Bateman literally plays the exact same role he always plays in everything. That being an all round nice guy who gets on with everyone, the goodie, the likeable sensible character. While Kate McKinnon kinda goes against cast as the boring stick-in-the-mud, probably conservative and highly conformist, her character is nothing new. The same can be said for all the other characters who are generally made up by traditional nerds, sexy nerds, oddballs and angry people. You see that's the main problem here, this concept is old hat, its been done a million times, there isn't really much you can do with this that hasn't been seen before. To make matters worse the comedy is fast and loose missing targets left and right. Yeah Aniston is a sexy bitch, got it. Clay is a likeable moron who manages to host an awesome Xmas party, check. The party involves lots of idiotic visual gags such as chugging alcohol from an ice statues penis. Various people trying to do silly things, whilst drunk, and getting hurt badly (usually jumping off things). Knocking over a huge Christmas tree whilst inside an expensive department store. The uptight client they are trying to impress gets covered in cocaine, gets high and completely cuts loose turning into a party animal. Heck, how many times have we seen that plot angle? The uptight client is won over by the oddballs and becomes one of them. The party eventually gets so out of hand that illegal things are happening willy-nilly like launching items out of the windows (the office is inside a skyscraper). Where did the horses come from?? The movie actually becomes too stupid for its own good. At one point the drunken office folk shove an entire vending machine out of the building window, along with monitors and chairs. I mean sure, a party can get out of control with drugs, sex and booze, all within the realms of possibility. But when things like that start happening from the top end of a skyscraper, we're talking about people possibly getting killed below and police turning up, serious shit. Yet there are no apparent consequences here. A monitor falls and barely misses Aniston as she approaches the building...but she just shrugs it off as an annoying occurrence! Did I mention the horses? The one thing that did hit me whilst watching this, some Americans have amazing places to work! This office block is in downtown Chicago I believe, and boy is it impressive, the fecking views! The fact that people can work in a place like this (the interior was pretty amazing too) and consider it mundane seems unreal to a Brit like me. Also, Yanks know how to decorate for Christmas (or anything). I've known this from my own holidays, the Americans don't mess around when it comes to decor, it all looks stunning, and this film demonstrates just that. But anyway the movie, yeah its fine I guess. There are numerous sub plots going on with various characters throughout that are reasonably engaging I suppose, nothing special. Usual stuff really, relationship forging, sex, hired prostitutes, revenge, a car chase and finally everything ending happily as the office is saved (because of course). I didn't wanna say it but its essentially a movie length version of [i]The Office[/i], uncut. A late in the day total rampage of stereotypes we've all seen before.
Phil Hubbs
Super Reviewer
½
A normal comedy, with little to differentiate it from tons of other riffs on The Hangover, merely to say its no total embarrassment, but neither is it a laff riot.
Kevin M. Williams
Super Reviewer
½
A mindless comedy that offers the same as any Christmas comedy movie. it's fun just leave it at that!
Film Crazy
Super Reviewer
Office Christmas Party Quotes
There are no approved quotes yet for this movie.