Office Of The Dead
(2009)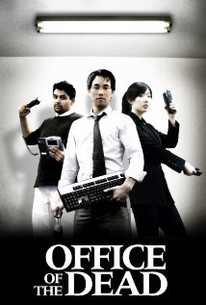 AUDIENCE SCORE
Critic Consensus: No consensus yet.
Movie Info
Life Corp, a leader in the technology field, is working on ground breaking technology to makes people happy. The company's CEO, Sir John Chris, argues this is coming at a time when people are angry and need a change. Ben Lau, a software engineer, has dedicated the last three years of his life on the Life Corp project trying to make a difference. Together with Raj, his fellow software engineer, and Liz, his project manager, they conduct their final experiment which would actually make an unhappy person happy. The experiment takes an unexpected turn for the worse. Instead of the intended outcome, the test subject becomes a zombie.
Critic Reviews for Office Of The Dead
There are no critic reviews yet for Office Of The Dead. Keep checking Rotten Tomatoes for updates!
Audience Reviews for Office Of The Dead
Office Of The Dead is NOT a movie I'd rent, buy or watch ever again.I'm glad I didn't have to pay to see it because if I did, I would've been pissed & wanted my $$$ back.I just watched it & already I forgot what I watched.The last thing I remember was everybody trapped together in the security room.If you asked me how it ended I wouldn't be able to tell you.At the moment I'm trying to rewatch the ending just to remember how it ended but I can't get the video to work.Maybe it's a sign to give up & move on to the next.I guess it really doesn't matter.It did have some surprisingly good acting though which you wouldn't expect from such a movie.My favorite thing about Office Of The Dead was that they made a zombie movie without any blood at all (Yes you read that right) Alot of face paint though.If they had a bigger budget I bet you that the movie would've been filled with guts & gore.I probably wouldn't recommend watching Office Of The Dead unless you happen to come across it, absolutely NOTHING else is on & you don't have to pay to see it (Of course) They really tried to do something with only what they had to work with so A for effort & cool movie title
Brody Manson
Super Reviewer
Office Of The Dead Quotes
There are no approved quotes yet for this movie.