An Officer and a Gentleman
(1982)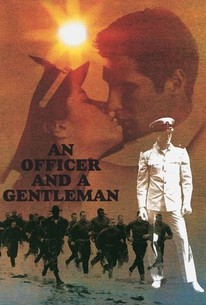 TOMATOMETER
AUDIENCE SCORE
Critic Consensus: Old-fashioned without sacrificing its characters to simplicity, An Officer and a Gentleman successfully walks the fine line between sweeping romance and melodrama.
An Officer and a Gentleman Videos
An Officer and a Gentleman Photos
Movie Info
Richard Gere plays Zack Mayo, an aloof, taciturn man who aspires to be a navy pilot. Once he's arrived at training camp for his 13-week officer's course, Mayo runs afoul of abrasive, no-nonsense drill sergeant Emil Foley (Louis Gossett Jr.). Mayo --or "Mayonnaise," as he is dubbed by the irascible Foley -- is an excellent cadet, but a little cold around the heart. Foley rides Mayo mercilessly, sensing that the young man would be prime officer material if he weren't so self-involved. Zack's affair with working girl Paula Pokrifi (Debra Winger) is likewise compromised by his unwillingness to give of himself. Only after Mayo's best friend Sid Worsley (David Keith) commits suicide over an unhappy romance does Zack come out of his shell and mature into a real human being. Take away the R-rated dialogue and the sex scenes, and Officer and a Gentleman could have been a 1937 MGM flick, maybe with Robert Taylor as Zack, Wallace Beery as Foley, and Jimmy Stewart as Sid. An Officer and a Gentleman was nominated for 7 Oscars, with wins to Gossett and to the hit song "Up Where We Belong." The closing scene has surely become a classic of movie romance.
News & Interviews for An Officer and a Gentleman
Critic Reviews for An Officer and a Gentleman
Audience Reviews for An Officer and a Gentleman
½
A wonderfully honest film that grows so much on us for two hours that we end up embracing its clichés without the slightest reservation, and it has splendid performances from the entire cast, especially Louis Gossett Jr., who is fantastic and deserved the Oscar he won.
Carlos Magalhães
Super Reviewer
An Officer and a Gentleman is a good drama that relies on a predictable story, but manages to be entertaining due to the performances of its cast. I thought that the film was a bit overrated, but nonetheless it's worth seeing, if you're looking for an engaging drama, this is a film worth seeing. I really felt that the actors salvaged the film due to the fact that this is a film that we know exactly how it will conclude. The chemistry between Richard Gere and Debra Winger is wonderful, and it's what keeps you involved in the film. In terms of Romance films, I guess this is one of the better ones, compared to those of today, which are peppered with clichés and highly forgettable. Where An Officer and a Gentleman differs is that the romance is set within a well constructed story. Like I said, the actors salvage this one, as some may find it a little dull. For me, I felt it was a good film, but one that doesn't necessarily warrant multiple viewings. Even with the fact that it's a bit predictable, An Officer and a Gentleman is far better than many other genre films. The cast is good, the plot is well thought out, and the direction is well done and keeps you engaged from start to finish. So if you want a romantic drama film that is a bit predictable, yet better filmed than many of today's films, this is your best bet. The film is far from perfect, but it does manage to deliver an engaging plot, mixed with effective performances to make it a film worth seeing.
Way better than I had imagined and one of the best romantic dramas I've ever had the pleasure to see. It would'nt even have been half as great though, if it wasn't for the stellar performance by Richard Gere (along with the wonderful chemistry he has with Debra Winger). Sparks seem to be flying whenever they're together on screen. And although I knew beforehand how things would end, it's still a very interesting journey with some unpredictable sub-plots. A breath of fresh air when compared to modern-day "chick flicks", which too often are riddled with clichés and stereotypes. There are some scenes where it gets a little slow, which made it somewhat hard to rate. But with a third act so powerful and genuinely moving, I do think it's entitled itself to fours stars on the uniform. An uplifting, gripping and beautifully scored motion picture, with an ending so memorable that it'll stay with you forever.
An Officer and a Gentleman Quotes
| | |
| --- | --- |
| Sgt. Emil Foley: | There's not gonna be any liberty for you, boys, because you'll be going home by then. |
| | |
| --- | --- |
| Paula Pokrifki: | You know something, you ain't nothing special. You got no manners, you treat woman like whores and if you ask me that you got no chance of being no officer. |
| | |
| --- | --- |
| Sgt. Emil Foley: | In every class, there's always one joker who thinks that he's smarter than me. In this class, that happens to be you. Isn't it, Mayonnaise? |
| | |
| --- | --- |
| Topper Daniels: | Who the hell is that guy? |
| Perryman: | That's your momma and daddy for the next thirteen weeks. |