Oh! What A Lovely War
(1969)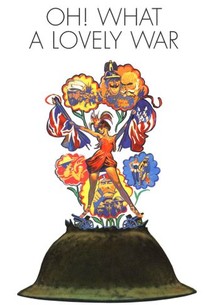 Oh! What A Lovely War Photos
Movie Info
Oh! What a Lovely War is an every-man-for-himself adaptation of Charles Chilton's 1963 play, as staged in London by Joan Littlewood. The tragedy of World War I is redefined in bawdy music-hall terms, beginning with a verbal free-for-all involving the Crowned Heads of Europe. The war is presented as the "new attraction" at the Brighton Amusement Pier, complete with syrupy cheer-up songs, shooting galleries, free prizes and a scoreboard toting up the dead. Throughout the proceedings, the camera concentrates on a middle-class family, whose five sons end up as cannon fodder. The final image is a veddy proper British picnic on a graveyard. Of the many fleeting satiric images parading past the camera, one of the most indelible is the sight of several generals playing leapfrog as the world all around them goes to hell in a handbasket. The awesome all-star cast includes Laurence Olivier, Ralph Richardson, Maggie Smith, John Gielgud, Michael Redgrave, Jack Hawkins, John Mills, Susannah York, Dirk Bogarde and Phyllis Calvert. We haven't seen this many Englishmen in one place since the last Wimbledon match. The whole affair was supervised by Richard Attenborough, making his directorial debut (a question: why was he up to the challenge of this musical extravaganza, yet seemed helpless in the face of 1985's A Chorus Line?).
Critic Reviews for Oh! What A Lovely War
Audience Reviews for Oh! What A Lovely War
½
A war film unlike any other.
Marcus Woolcott
Super Reviewer
A strange and interesting Great War film that presents the conflict as, among other things, a garish seaside carnival to which everyone wanted a ticket. More than many films I've seen based on plays, this one incorporates elements of staging you'd expect from the theatre without any ill effects; in some scenes, it's like there's a camera in the theatre and you can see literal set pieces, while others (increasingly, as the film goes on) immerse you in the action you'd need to mostly imagine were you in a theatre. I also found in places that the film's sense of the absurd (if not its hilarity) rivalled that of Monty Python. Do we call it a satire? I think so... but its project of laying bare the conflict's human cost and its deference to the symbolic value of the poppy and the increasingly fatalistic songs of the soldiers is worth noting, too. In all it's not an overly exciting movie to watch, but it's a rich and layered document that ought to survive.
Daniel Perry
Super Reviewer
Oh! What A Lovely War Quotes
There are no approved quotes yet for this movie.