Okja
(2017)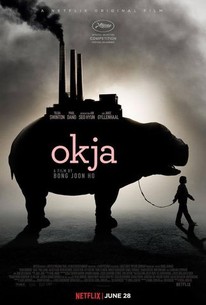 TOMATOMETER
AUDIENCE SCORE
Critic Consensus: Okja sees Bong Joon-ho continuing to create defiantly eclectic entertainment -- and still hitting more than enough of his narrative targets in the midst of a tricky tonal juggling act.
Movie Info
For 10 idyllic years, young Mija (An Seo Hyun) has been caretaker and constant companion to Okja--a massive animal and an even bigger friend--at her home in the mountains of South Korea. But that changes when a family-owned multinational conglomerate Mirando Corporation takes Okja for themselves and transports her to New York, where image obsessed and self-promoting CEO Lucy Mirando (Tilda Swinton) has big plans for Mija's dearest friend. With no particular plan but single-minded in intent, Mija sets out on a rescue mission, but her already daunting journey quickly becomes more complicated when she crosses paths with disparate groups of capitalists, demonstrators and consumers, each battling to control the fate of Okja...while all Mija wants to do is bring her friend home. Deftly blending genres, humor, poignancy and drama, Bong Joon Ho (Snowpiercer, The Host) begins with the gentlest of premises--the bond between man and animal--and ultimately creates a distinct and layered vision of the world that addresses the animal inside us all. Okja is a Plan B Entertainment, Lewis Pictures and Kate Street Picture Company production in association with Netflix.
Audience Reviews for Okja
½
Despite the overacting and lack of subtlety, this is a touching film that benefits from astonishing visual effects and offers a welcome ecological message about the exploitation of science and atrocities committed against animals for profit to the detriment of people's health.
Carlos Magalhães
Super Reviewer
½
This is just about as subjective as you can get when coming up with a premise for a film. This is one of the most original films you will see all year, by far, but I'll say that there is no chance of every viewer enjoying it from start to finish. The mere premise itself is enough to turn people off, but if you can leave certain beliefs at the door when watching Okja, you may just find yourself enjoying it as much as I did. Animal activists are real people out in our world, whether they choose to eat less meat or no meat at all is completely up to them. Sadly, this is where I feel the film will lose a lot of its viewership, which I think is completely ridiculous. Take the film The Green Mile for example. It's incredibly religious twist may turn off certain viewers, but why? That aspect works in context with that film, making it a well-drawn film, and unless it's based on an actual event, what does it have to do with reality? That's just how I feel about social commentaries subtly thrown into films, but here is what makes Okja such a fantastic piece of art. Okja is nothing if not unique. Clearly taking place in a fantasy version of our own world, this film follows a corporation who has created giant super pigs in order to provide stellar meat to the world. Having one as a pet in the jungle with her father, young Mija loves and cares for her to the very end. Being taken from them for slaughter and meal preparation, the Mirando corporation will have you not wanting to eat meat again in your life. I'm not going to get into my beliefs on the subject matter, but I'll say this film clearly has a message it's trying to send, and they deliver that message in spades. At times, this is a hard film to take in, and the emotional payoff in the final few scenes is well worth the wait. Normally a film feels bogged down when there are too many sub-plots occurring at once, but having the addition of the ALF team that is completely on Mija's side was a breath of fresh air. Their presence made the film a little easier to get through in terms of brutally honest ways that our world treats animals. As much as this is a social commentary though, it's also an incredibly engaging story about a young girl who is trying to free her pet from captivity. There are many plots throughout this film that added to my overall enjoyment, but if I had one complaint, it would have to be in the social commentary itself. What felt strange to me was the fact that everyone involved in the Miranda corporation felt like they were in a different film, delivering strange and over-the-top performances. It's incredibly jarring at first, but in the end, I feel as though that was on purpose. Director Joon-ho Bong (of Snowpiercer fame) was clearly trying to add an extra level to his commentary, differentiating everyone in that corporation from the rest of the movie. Quite honestly, this film both benefits and is hurt by these characters, but upon reflection, it really did fit. I really appreciated these characters when looking back on the movie, so in that respect, my one negative almost turns itself into a positive, but I can't give this a film a perfect score, due to the fact that I was off-putted throughout the majority of the viewing. In the end, this film definitely isn't for everyone, but if you are a fan of films that take risks and turn into something completely different throughout the second and third acts, then I highly recommend Okja to you. I loved my experience with this film, even though I have minor complaints throughout. Overall, this is one of the better films I have watched this year. From terrific social commentary in the screenplay, to solid enough visuals to convey the emotion necessary throughout the eyes of Okja, to the superbly directed visual style from director Joon-ho Bong, I really have nothing to say, except for the fact that this is a terrifically done piece of filmmaking. Okja is well worth the time if you are intrigued by the premise at all.
The director's former works should have been a warning not to expect a regular "girl befriends special creature" movie, but the beginning still lulls you into a false sense of security. Especially the second half of the film is wonderfully weird and unpredictable, and certainly not for kids, by the way. The mix of comedy (sometimes amped up to the degree of parody, especially by Gyllenhaal), and drama works, the final act is absolutely heart-breaking. Great visuals and a fantastic cast make this an all around unique experience and a massive win for Netflix. Some might take offense in the huge vegan message the film is sending, other will think it is very much necessary these days.
Okja Quotes
There are no approved quotes yet for this movie.