Oklahoma!
(1955)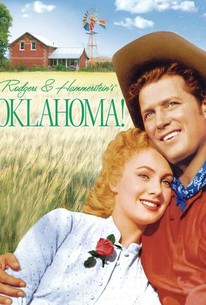 Movie Info
Rodgers and Hammerstein's 1943 Broadway musical was considered revolutionary for a multitude of reasons, not least of which were the play's intricate integration of song and storyline, and the simplicity and austerity of its production design. The 1955 film version of Oklahoma! retains the songs (except for Lonely Room and It's a Scandal!, which are usually cut from most stage presentations anyway) and the story, but the simplicity is sacrificed to the spectacle of Technicolor, Todd-AO, and Stereophonic Sound. The story can be boiled down to a single sentence: a girl must decide between the two suitors who want to take her to a social. In her movie debut, 19-year-old Shirley Jones plays Laurie, an Oklahoma farm gal who is courted by boisterous cowboy Curley (Gordon MacRae) and by menacing, obsessive farm hand Jud Frye (Rod Steiger). Fearing that Jud will do something terrible to Curley, Laurie accepts Jud's invitation to the box social. But it's Curley who rescues Laurie from Jud's unwanted advances, and in so doing wins her hand. On the eve of their wedding, Laurie and Curley are menaced by the drunken Jud. During a fight with Curley, Jud falls on his own knife and is killed (this sudden-death motif was curiously commonplace in the Rodgers and Hammerstein ouevre). The local deputy insists that Curley be arrested and stand trial, but he is outvoted by Curley's friends, and the newlyweds are permitted to ride off on their honeymoon. Counterpointing the serious elements of the story is a comic subplot involving innocently promiscuous Ado Annie (Gloria Grahame), her erstwhile sweetheart Will Parker (Gene Nelson) and lascivious travelling salesman Ali Hakim (Eddie Albert). None of the Broadway cast of Oklahoma! was engaged for the film version, though Charlotte Greenwood is finally able to essay the role of Auntie Eller that had been written for her but she'd been unable to play back in 1943. The evergreen songs include Oh, What a Beautiful Mornin', Surrey with the Fringe on Top, People Will Say We're In Love, I Cain't Say No, and the rousing title song. Two versions of Oklahoma! currently exist: the Todd-AO version, filmed on 65-millimeter stock, and the simultaneously shot CinemaScope version, shipped out to the theaters not equipped for the wider-screen Todd-AO process. Both versions have been issued in "letterbox" form on laser disc, and the subtle differences in performance style and camera angles in each and every scene are quite fascinating. ~ Hal Erickson, Rovi
Critic Reviews for Oklahoma!
Audience Reviews for Oklahoma!
Superior filming of great R&H musical with Shirley Jones and Gordon MacRae ideally cast in the leads. They share a great chemistry but even better their voices blend beautifully together on the top notch score. Gloria Grahame was considered miscast at the time as Ado Annie due to her supremacy as a film noir fixture but she is charmingly coquettish and addlepated. However she was apparently a terror to work with on the picture engendering the animosity of cast and crew and damaging her reputation and career which never fully recovered. Eddie Albert and Charlotte Greenwood provide nice bits of humor as Ali Hakim and Aunt Eller with Rod Steiger is a terrifically dark and menacing Jud Fry. Highly stylized this has gorgeous production and costume design all filmed in widescreen Todd-AO and Technicolor, a fantastic entertainment of the type that Hollywood has forgotten how to make.
The classic western musical. First of all I don't like westerns and second I'm not a big fan of musicals (I only like certain ones). So, I didn't enjoy this movie. It's not a bad movie, I think it's good that they mixed the genres (it's also a romantic comedy), I just didn't care for it.
yes i admit i love this movie. shot on location... in arizona!
Stella Dallas
Super Reviewer
Oklahoma! Quotes
There are no approved quotes yet for this movie.