The Omega Man
(1971)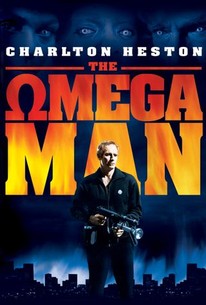 TOMATOMETER
AUDIENCE SCORE
Critic Consensus: It may not live up to its classic source material, but The Omega Man transcends its limitations often enough to offer some mildly entertaining post-apocalyptic thrills.
Movie Info
This second film adaptation of Richard Matheson's science-fiction novel I Am Legend (the first version being The Last Man on Earth with Vincent Price) unfolds in a post-apocalyptic 1976. Charlton Heston is Robert Neville, the sole recipient of a serum that enabled him to survive an onslaught of germ warfare between Russia and China - which seemingly rendered him the last (normal) human alive. Neville lives in a garish, antique-strewn L.A. penthouse. During the day, he roams through the vacant city. At night, he fends off a bloodthirsty horde of mutant scavengers garbed in Spanish inquisition robes and sunglasses, led by Matthias (Anthony Zerbe), a former television newscaster in his good ol' pre-mutant days. Matthias and his half-human vampires want to kill Neville. Neville's last man on earth status is shattered when he comes across a group of young people, presided over by the sexy and cynical Lisa (Rosalind Cash). Neville begins to form an interest in her, as the two try to keep Matthias and his minions at bay. The Omega Man was filmed in downtown Los Angeles on Saturday afternoons, an area that consists almost exclusively of office buildings, and therefore was suitably vacant at the the time of production. In 2007, Matheson's novel received yet another incarnation - this one with Will Smith in the Heston role. ~ Paul Brenner, Rovi
News & Interviews for The Omega Man
Critic Reviews for The Omega Man
Audience Reviews for The Omega Man
[img]http://images.rottentomatoes.com/images/user/icons/icon13.gif[/img]
Directors Cat
Super Reviewer
Having read the original Richard Matheson story I Am Legend, I'm always comparing it to the film versions whenever I see them. I hadn't seen this version, but I do I have to say that it's probably the worst of them all. The title of The Omega Man doesn't do it any favors either. The most difficult aspect of adapting this story is that no matter how you do it, it will always be stuck in a particular time period. It's pretty unavoidable because the world basically ends in the story and everything stops, so it's stuck in whatever time period the film is shot in at the time. However, certain steps can be taken to not be so overtly reliant on "the times." This film is actually the worst at that. Everything from the wardrobe, music and setting are set in the 1970's and even if you didn't know anything about this story you'd know exactly what time period it was from just by the look of it. Hell, Charlton Heston is even watching Woodstock by himself at the local cinema. It's so overtly 1970's that it's difficult to take it seriously, which is what the film's tone wants me to do. A lot of the story has also been changed for the worse. The story, to me, has always been about isolation and prejudice against the outside world... in other words, a metaphor. This film is about fighting the bad guys and survival, and that's about it. I can see why people enjoy it so much, but for me personally, I really like the story of I Am Legend and I choose to take it a little more seriously than this film does. I'll just go back to watching The Last Man on Earth instead, which is the best adaptation of the story, in my opinion.
Tim Salmons
Super Reviewer
A jive-talking leading lady out of a blaxploitation film and fatuous mutants in monk robes are among the most blighting of Omega Man's failures. Heston is his usual stoic, gravelly self but the atmosphere has been leached of its isolation and the pasty white makeup gives all the mutants a case of powdery vitiligo. A high-scope rifle with a massive infrared eyepiece is truly impressive hardware, but the mutants are silly-costumed freaks that never pose a threat.
Cory Taylor
Super Reviewer
The Omega Man Quotes
| | |
| --- | --- |
| Neville: | Tell me something. Are you fellas really with the Internal Revenue Service? |
| | |
| --- | --- |
| Matthias: | Definition of a scientist: a man who understood nothing, until there was nothing left to understand. |
| | |
| --- | --- |
| Neville: | I like Pizza |
| Neville: | I like pizza. |