Omen IV - The Awakening
(1991)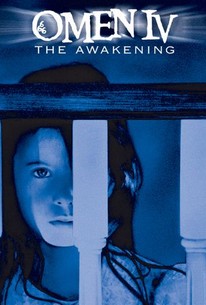 Omen IV - The Awakening Photos
Movie Info
In this made-for-TV apocalyptic horror saga, the deceptively adorable daughter of late devil-boy Damian is adopted by a kindly couple who have no idea who she is. The husband is a politician and the daughter decides that the best way for her to spread evil around is to boost his career at every opportunity. ~ Sandra Brennan, Rovi
News & Interviews for Omen IV - The Awakening
Critic Reviews for Omen IV - The Awakening
Audience Reviews for Omen IV - The Awakening
Omen IV is a horrible film with little to no substance. This film is a total waste of celluloid and doesn't offer anything to a tired out trilogy of films before it. The film utter garbage, the acting sucks, and is absolutely terrible in every respect. No respecting Omen fan should watch this trash, it's simply the worst sequel ever produced for this series, and is unworthy of The Omen title. Not to mention this is another one of the worst horror films ever made. The acting is bad, the directing is awful, and the film is a total mess. The film uses a girl instead of a boy, and though it's somewhat interesting idea, the filmmakers venture in derivative territory nonetheless. This fourth entry is completely unnecessary. This film uses a tired out formula that is predictable. Omen Iv is a pointless final entry in the series. The film is dead in the water right from the shot. This series was dead after its first sequel, I'm not even sure why they tried to make sequels to the original film. All of them turned out to be bad attempts at creating effective horror. This film not worth your time, spend it watching the original Omen, you'll be glad you did.
½
Evil girl -_- I wish the Omen thing to stop. It's getting lame and lame and really lame >:(
Dead Angel
Super Reviewer
To the small minority seen here praising this film GET SERIOUS. I know it's down to peoples personal opinion at the end of the day, but anyone with more than a couple of brain cells can surely see that this is total rubbish. So bad it does not deserve to be part of this franchise. I can only assume those saying how great this is are friends with somebody involved in the film and are trying to give their career a push. Poor in every way, don't con people by saying otherwise. Storyline is a weak rehash of the previous entries, script is likewise. Attempts to hide the lack of originality by using a girl instead (WOW!) don't disguise the film-makers lack of ideas,and there is sadly a complete lack of any scares. Absolutely no redeeming qualities, utter utter turd. I've awarded this pair of chancers one mark simply for having had the nous to get someone to fund this piece of crap. They must have put more effort into that than they did into actually making the film. Shame.
Cassandra Maples
Super Reviewer
Omen IV - The Awakening Quotes
There are no approved quotes yet for this movie.